Learn Italian the fun and easy way……..
Learning another language can be difficult and also boring, so we have organized a fun way to learn or practice Italian. Living in Rome or any other country and not knowing the language can make things frustrating. Communication is important and we can help you with that. Our teachers are experienced, qualified, and motivated. There is a real lesson with grammar explain and conversation depending on the level you are at.
Teachers make learning fun and interesting so you enjoy each class. Lessons are held at the same location as HAPPY HOUR on Tuesday nights. We change locations and you can see where we are here, where you can do language exchange, make new friends, socialize, and network. How cool is that?
Want to learn Italian for daily living in Italy?
Are you interested in how to communicate while shopping, booking a hotel room, or making reservations at a restaurant?
Want to improve your skills you already have?
Are you ready to take the challenge?
Tuesday night classes
Package of 8 lessons cost €80.00 

Lessons are on every Tuesday night at 7:30 pm -9:00 pm (1.5 hours)

You can cancel lesson same day up till 11am 

You can pause the lessons so that you do not lose them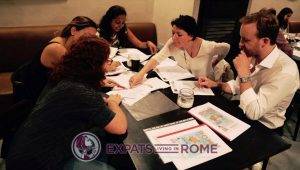 How to Enroll?
Sign up and become a member for free here and fill out the form. Once we have accepted you via email for the class you can TRY IT FREE before you sign up without obligation.  There is a ONE-TIME  enrollment fee of €40.00.
How many students are in class?
There are from 2 to 8 students in each class. The average number is 4/6.
Where are the students from and their age?
Students are from all over the world. The average age is 18 to 45.
Cancellation and refunds:
Cancellation 15 days before start date you will receive a full refund. (except any bank or paypal fees).
The deposit paid will not be refunded in case of cancellations made less than 15 days.
There are no refunds for students who begin the course later than the official starting dates, and no refund for those that miss classes.
There are 2 make up classes for each course for missed classes. For those that travel for work/pleasure can send an email to rome-expats@hotmail.com and let us know so we can work with you to have you not miss classes if you miss more than 2 classes.
Missed classes:
If you are not able to attend a class/classes, please email us. So that we can help you make them up. We will work with you and help you make them up when possible.
Just a few reminders:
It's your responsibility to know where the lesson is each week by checking the website or sending an sms or call +39.338.6771753.
If you know you are going to continue for the following month contact us to reserve a spot.
If you feel the lesson is too hard or easy let us know so that we can change your level. Speak with your teacher first about it.
Do not arrive more than 10 minutes late as it interrupts the class. You can arrive late and ask for worksheets of missed lessons if you wish.
For those that attend Tuesday night classes before the HAPPY HOUR and like to get a drink please come 5 minutes early to order it before class starts.
PAYMENT METHODS:
Bank transfer (Bank fees at your own expense)
Credit card
Paypal
Cash
Levels
Zero – This is for the students that know absolutely nothing.
Beginners – Will work on building vocabulary and some grammar. It's best to learn vocabulary and less grammar in this stage.
Intermediate/Advanced – Some grammar, some conversation, and correcting mistakes.
Advanced/Conversation – Speaking & reading – learning how to speak more freely and naturally.
Each level has reading, writing, listening, and comprehension exercises.
Private lessons:
If interested in private lessons we can organize that for you. We have for individual, groups, travel, translations, and business planning. We send our teachers to your home or office. We work with companies, organizations, and universities in Rome. Contact us for more details.
There are NO classes on national or local holidays