Getting around Rome… useful tips for Rome Expats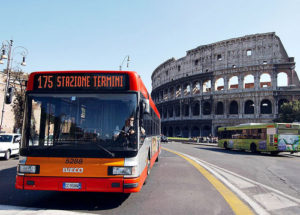 Still deciphering Rome's public transportation?
Are you new to Rome?  Perhaps scratching your head on how to get around the city?  Here are our up-to-date transit tips on how you can move like the Romans do:
The best transportation apps…
To navigate – Everyone is familiar with the user friendly Google maps, which works quite efficiently in the city of Rome.  For more accurate timing on bus arrivals we recommend Muoversi or Moovit, which includes extra search options such as train/tram lines, bus stops, etc.  ATAC is the official site/application for Rome's public transportation service and we do not recommend it for accuracy and user friendliness.
itaxi.it  – This connects you to Radio taxi, Rome's largest taxi service.  This app will allow electronic payment to your attached credit card or Paypal account.  Why we recommend it… you can track your route from point A to B using the app to verify the taxi isn't taking you for an extra spin around the block, another tactic Rome's taxi drivers will use to hike up the meter when transporting foreigners.
Uber– Uber is available in Rome, but limited to uberx, uberlux, and ubervan.  They can mostly be found in and around the city center. Uber fares can at times be a cheaper alternative to the taxi, but significantly more expensive after hours.  Again, you can track your route using this application.
Scooterino – This is a fun way to travel around Rome when you are riding solo with no baggage.  Rome by motorbike is an incredible experience!  Keep in mind this is a relatively new service, still enlisting the help of scooter owners, so pickup times are lengthier than the taxi option, while the demand for drivers and users increase.
Getting to the airports…
Taxi – For those with heavy luggage desiring a stress free, on -time ride, this is your easiest option, but not your cheapest.  It is recommended to pre-order your ride and pre-negotiate your fare, instead of relying on the meter.  Be wary of taxi cab drivers and their inclination to overcharge tourists and foreigners alike.  If you live within the walls of Rome, you should be paying no more than 50 euros for a ride to the airports, this is actually written on the side of most taxis.  Read more about the city mandated taxi fares here.
Airport Shuttle – the second most convenient form of transport to both airports, you must prearrange for your location pickup online .The cost is €25 euros additional passengers cost €6.
Trains – From Termini station to Fiumicino airport, you can take the Leonardo express for 14 euros.  Train schedules are tickets are available online.
Buses – The airport bus service is available through Terravision, for as little as 4 euros a ride.  You can view the schedule and pre-book online.  Pre-booking comes highly recommended using this method.
Driving in Rome – If you're brave enough to step behind the wheel of a car or motorbike, we caution you to consider Rome's air pollution vehicular restrictions.  Here are various web links to offer more insight:
Let's talk about Sciopero – The Italian word for "strike"
Public transportation strikes are a regular occurrence here in Rome and we cannot offer an explanation as to why they continue.  They typically occur at least once a month, typically on Fridays, while also not so typical. You can find more information of their inconsistencies on the official ATAC website or local websites such as Romatoday.it or www.comuneroma.it.  The operation hours of the metro lines are limited on these days, along with the availability of certain bus/tram/train lines.  In the worst case scenario, the strike can follow you all the way to the airport, limiting or cancelling the take-off of flights, though it is a rare recurrence.
For the city's official transport webpage, click here
*Please keep in mind that this information may be invalidated on the day of a Roman reality we call…