You just arrived in Italy but you don't know what else to do for Christmas after visiting the most famous places and monuments? We have 5 activities for you to do this season that you probably didn't know you could do this year! 
#1 – The Vatican's Nativity Scenes
Every year, the Vatican City is decorated for Christmas with gorgeous lights and decorations. The Nativity scene and the Christmas tree are usually the focal points. The custom began in 1982 at the Vatican, courtesy to Pope John Paul II, who held that these depictions were "a show of confidence in God."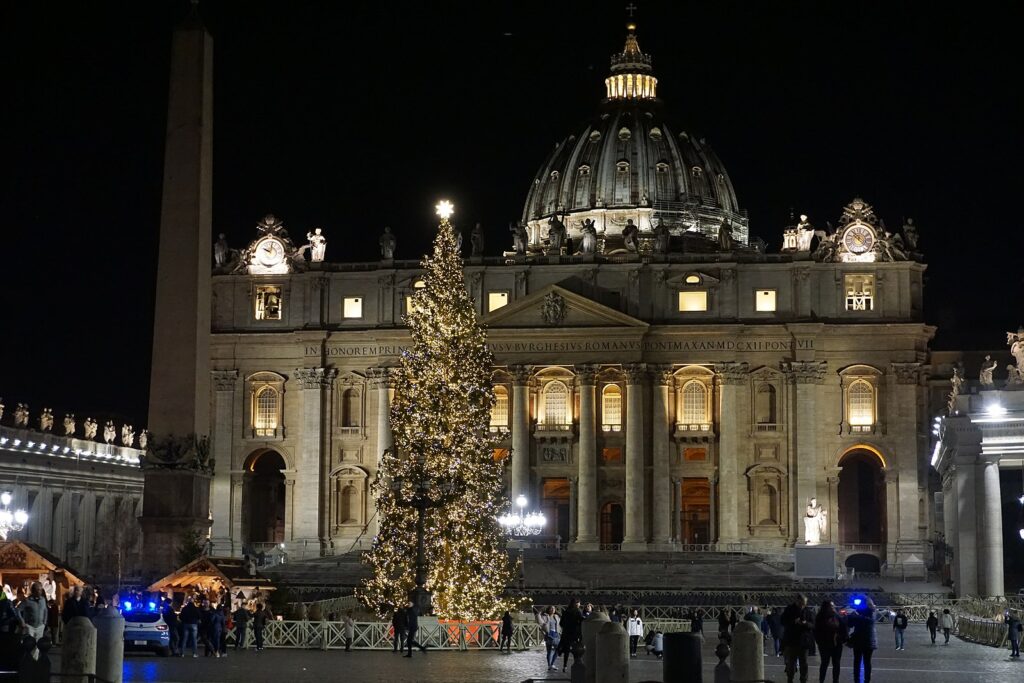 The creche is shown throughout the Advent season, which lasts four weeks before Christmas. However, the infant Jesus only appears in the manger on Christmas Eve. The scene is taken down in early January on the Feast of the Baptism of the Lord, i.e. the 12th day of Christmas.
The nativity scene that will be displayed in St. Peter's Square in the Vatican to honor Christmas in 2022 will be from the northern Italian town of Sutrio, in the Friuli-Venezia Giulia region.
The crib is entirely composed of cedar wood sourced from a sustainable forest. It has a semi-sphere that will serve as a Grotto, displaying the Holy Family. Life-sized figures portraying Sutrio's traditional craftsmen, such as carpenters, weavers, and crafters, surround them.
The nativity scene will be on display until the Feast of the Lord's Baptism, which falls on January 8, 2023.
#2 – Florence's Green Line Festival
The Green Line festival, promoted by the Municipality of Florence and organized by MUS.E, will animate the city of Florence from 7 December 2022 to 8 January 2023 and will have as its central theme the four natural elements – air, water, earth, and fire -, the man-nature relationship, and the connection between heritage and good care.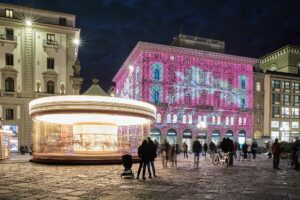 Green Line replaces F-Light, the past events that have distinguished Florence during the Christmas season in recent years with video projections, installations, and workshops dedicated to the world of light, engaging the city from the center to the suburbs.
The city's monuments and squares, from the center to the outskirts, will be transformed into a magical and unforgettable experience for everyone. You can easily go on a round trip to Florence by train so you don't miss the Green Line festival this year! 
You can learn more about this festival clicking here.
#3 – The Christmas Market in Bolzano
Bolzano is well-known throughout the holiday season for its spectacular Christmas Market! From the end of November until the 6th of January, around eighty exhibitors display everything that creates a Christmas mood, as well as the numerous celebrations that surround it. Bolzano is known as the Italian capital during the Christmas season.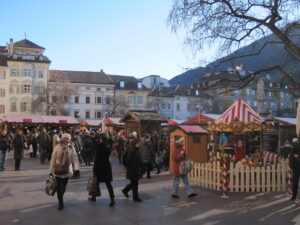 During Advent, the city is lit up in Christmas colors and music, with hundreds of lights lighting the streets of its historic core and traditional Carols playing in the background. In the weeks leading up to Christmas, the ancient city center is transformed into a spectacular citadel of illuminations and decorations.
A hundred little wooden houses sprinkled throughout the squares and alleyways sell the best of South Tyrolean handicrafts, while the Wine Road's wine vaults welcome guests for a special toast for the adults to have a great time.
Make sure you plan to visit this amazing place during your trip with your family! We guarantee you won't regret it!
Dates: From 24th November 2022 through 6th January 2023
Location: Piazza Wernher, Bolzano/Bozen, Italy
Opening times: 10:00am to 7:00pm. Reduced hours on the following dates:
24 December: 10.00 – 14.00
25th December: closed
31st December: 10.00 – 18.00
1st January: 12.00 – 19.00
#4 – Christmas Shopping in Milan
Surprise, surprise! Milan is the best spot to spend Christmas in Italy, especially for shoppers 😉 The seasonal decorations at Piazza Duomo and Galleria are a must-see, and they're also ideal for wrapping off your Christmas shopping. You won't have more excuses to give presents to your friends and family if you come here!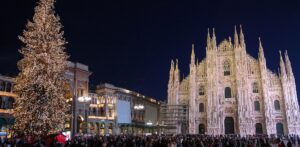 You'll enjoy the Christmas Markets, festivals, plays, and decorations that bring Milan to life around Christmas, and the city's ambiance becomes something magical. With this charm comes crowds, so plan your trip carefully and dress warmly, as temperatures in the city plummet in December.
We recommend you some of the best places to shop in Milan during Christmas:
• Galleria Vittorio Emanuele II
• Corso Vittorio Emanuele II
• Brera District
• Corso Buenos Aires
Even the non-shoppers will appreciate the window displays, midnight mass at the Duomo, the massive Christmas tree there, and the lights at Galleria Vittorio Emanuele II and Castello Sforzesco. 
Just be aware of not forgetting to bring back all the shopping bags back to your room though!
#5 – The Living Nativities in Sicily
A significant and treasured symbol of Sicily during Christmas is the living nativity scene. Many Sicilian villages perched on hills and mountains and surrounded by valleys are ideal locations for performing the living nativity scene: mazes of narrow cobbled streets provide the ideal setting and atmosphere to recreate ancient Bethlehem and the time of Jesus' birth, while the inhabitants enjoy dressing up and offering local food and wine to visitors, with the sound of the traditional bagpipe in the background.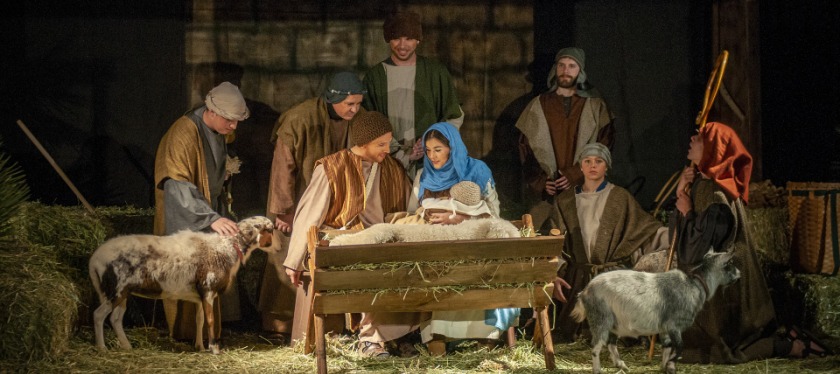 Every year, a large number of people enjoy the breathtaking scenes in some villages where faith and nature coexist harmoniously. Here we recommend some towns and cities where you can see the Living Nativity scenes: 
• Castanea (Messina): is located on the hills of Messina. Every Christmas, Castanea transforms into the setting for one of the most popular and magnificent living nativity scenes in Sicily.
• Gangi (Palermo): in 2014, Gangi was named the most beautiful Italian village.
• Ispica: located in South-Eastern Sicily, following an itinerary from the historical center to the famous location of "Cava d'Ispica," a very spectacular ancient site where the nativity scene is placed.
In Ancient Sicily communities, Christmas means not just real nativity scenes, but also other major traditional representations known as Pastorali, which are religious dramas popular in Sicily in the XVII and XVIII centuries. They are now rather prevalent in the Sicilian interior towns of Agrigento and Caltanissetta. The term pastorali refers to the figure of the shepherds, who, according to Christian tradition, were the first to see newborn Jesus because of their simplicity and humility.
We hope these places catch  your attention and that we picked your curiosity to see them by yourself this year. Please send us your pictures when you visit and let us know your experience by tagging us with our socials or via email at [email protected]
Also, if you want to see more events coming up in Rome to know more about the traditions or expats like you, just click here! 
Happy Holidays and Happy New Year 2023!
If you are planning to live in Italy permanently this blog will help you understand how to register as EU citizen. 
First you need  an Italian Tax Identification Number (Codice Fiscale) if you are NOT in Italy you must apply at the Italian Consulate.  If you are in Italy you can apply online agenziaentrate.gov.it
With the Italian Tax Code you can rent a long-term apartment with a contract registered in your name. To search for an apartment we recommend the following sites using filters by area and with all parameters. 
The commune will request the following documents to register your residence: 
When you have all the documents you can begin to prepare the declaration of residence to be submitted to the commune. The declaration of residence the documents of the house for rent with proof of registration with all personal documents ( Birth Certificate/ Family Certificate/ Marriage Certificate) Translated & Legalized. 
The declaration of Residence may be submitted in person or by email according to the provisions of the individual municipalities. 
In the declaration of residence you must state whether you are in Italy for work or by own means.  If you are here for work, you must attach proof of employment or proof of means of self-sustenance.
Health insurance registration of Community nationals is required as an attached document.
If you submit the online declaration of residence remember always check if you have signed all the statements and scan all the documentation in one file making sure that the pdf is not a big file. 
The duration of the procedure varies from the Municipality.  Usually faster in smaller Italian towns.
---
Other services and resources through our network:
• All relocation services: Immigration, Citizenship & Visas
• Startup programs and free resources
• Free consultancy for startup
• Networking events
• Language exchange & Language lessons
• Property search and purchase assistance
• International hosting services
---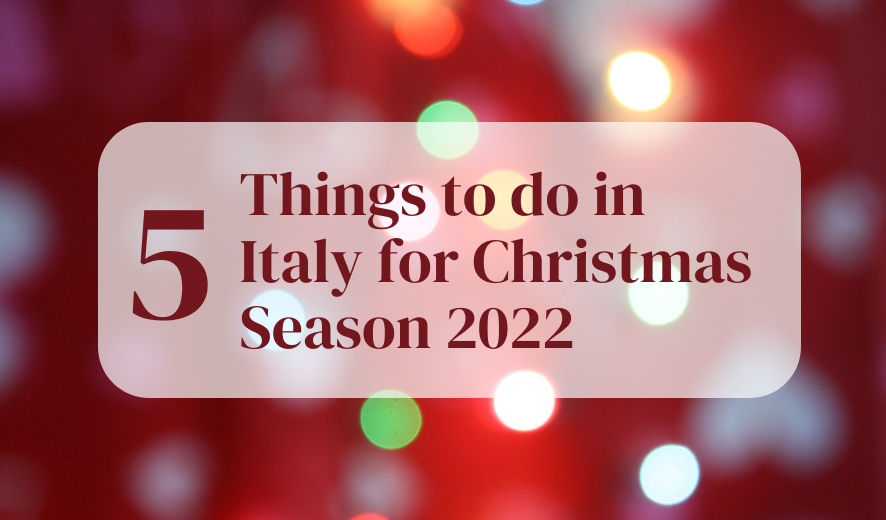 You just arrived in Italy but you don't know what else to do for Christmas after visiting the most famous places and monuments? We have 5 activities for you to do this season that you probably didn't know you could do this year!  #1 – The Vatican's Nativity Scenes Every year, the Vatican City is […]
Christmas shopping announcement and  Ztl active all day even on holidays!
Four days of free public transportation and also three free bus lines every day until January 8 from car parks to the Center.  Ztl will be active in the Historical center all day during  this period.
These are the most interesting innovations for mobility for the upcoming holidays, from  the 8 December 2022  to the 8th January 2023.
As for public transport, there are 4 free days for all bus, metro and tram network: 8, 11, 18 and 24 of December.
Three bus lines towards the center will be free for the entire period: line 100 (electric) and the new "Free 1", from Termini to Via del Tritone, and "Free 2", from Piazzale dei Partigiani to Via del Corso, from 9 to 21, with a frequency of 10 minutes. The three lines lead towards the historic center starting from three car parks and will provide discounted rates: Free 1, Termini car park; Free 2, Partisan parking; Line 100, Villa Borghese car park.
The underground and bus lines towards the historic center and towards the shopping centers will be strengthened, from 10:30 to 20:30, on public holidays and on all weekends of the Christmas period (8 December 2022-8 January 2023).
The Ztl Tridente and Centro Storico will be active from 6:30 to 20:00, from Monday to Sunday, from 8 December 2022 to 8 January 2023.
Discounted taxis and Ncc
There is also a 50% discount on taxis and NCCs for all adults from the 1st to the 31st of December, and a 100% discount for citizens with disabilities. The taxi discount is provided for a maximum of €20 euros per ride, which rises to €40 for citizens with disabilities.
Discounts and promotions for shared vehicles
Added to this are the initiatives of sharing mobility operators, who will enhance their offer with promotional initiatives aimed at encouraging the use of scooters, bicycles and cars. Cooltra, Bird, Dott, Acciona, ShareNow, Link, Enjoy, Tier and Lime.
The operators provide a bonus of 20 euros for new customers to be used on future rentals (for those who activate an individual or family contract in the period 8 December – 8 January 2023), while for customers with an individual or family contract there is a promotion on long rentals: 40.00 euros per day + 0.15 euros per km.
During the Christmas period, sharing mobility operators will enhance their offer with promotional initiatives aimed at encouraging their use.
Translated from Roma Today
---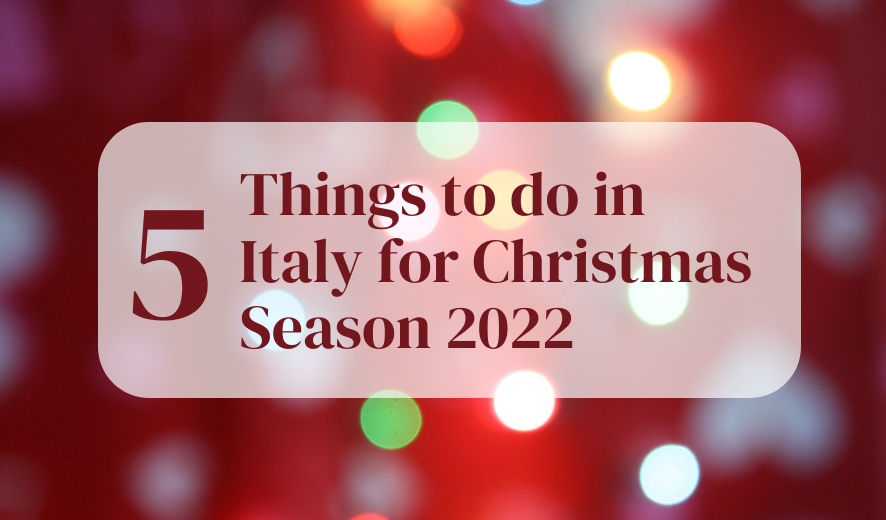 You just arrived in Italy but you don't know what else to do for Christmas after visiting the most famous places and monuments? We have 5 activities for you to do this season that you probably didn't know you could do this year!  #1 – The Vatican's Nativity Scenes Every year, the Vatican City is […]
Christmas markets, called
Mercatini di Natale
in Italian, tend to be more common in northern European countries.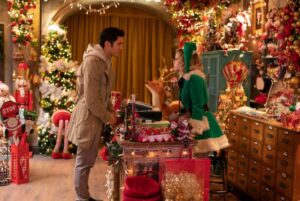 Beginning in the Late Middle Ages in European areas primarily speaking German and what was once the Holy Roman Empire. Nowadays, you won't find many Christmas markets in Rome as elaborate as the ones in Germany, Austria, Switzerland, and France, but there are still many compelling reasons to visit the famed Italian capital during Christmas time.
Rome is one of the most incredible cities in the world. In my opinion, coming to Rome during the winter means less crowds compared to summer. Of all the cities I have been to in the world, nothing is comparable to the Christmas programming that the "Ancient City" offers. Around nearly every corner you can find festive themed pop-up markets, Christmas villages, ice skating rinks, and shop after shop decorated in lights and Christmas theme. 
Rome Christmas Market Locations
For 2022 Christmas season you can find  Mercatini di Natale at the following locations:
• Piazza Navona – The most famous market in Rome. You'll find local sellers, toys, street musicians and artists, several nativity scenes and amusement rides. All of this is in front of Bernini's Fountain of the Four Rivers. The Christmas market's stalls at Piazza Navona are open from the 8th of December until the 6th of January. During the week you can shop here from 10 am until 1am, on the weekends the market is open until 2 am.
• Piazza Mazzini – Famous for its stalls selling Italian candy, toys and typical Christmas decoration and Christmas lights. The Christmas market opens on the 8th of December and ends with Christmas Eve, the 24th of December.
• Auditorium Parco Della Musica – Here you will find fair trade products and products of local artists. You can also go ice skating. Next to the ice rink you can find a nice bar. More food stands and shops are inside the gallery of the Auditorium. The Auditorium is some kind of concert hall with several events taking place throughout the year. Opening December 3rd until January 8th. 
• Cinecittà World – From November 12th to January 8th the main street of the Christmas Village of Cinecittà World will be decorated with the wooden houses of the Christmas Market where artisans, shows, music and designer lights will be the protagonists of the most beautiful time of the year. 
For Christmas in Rome as elsewhere in Italy, it is tradition to decorate the Christmas tree with the whole family. The day which is dedicated to decorate the Christmas tree is the 8th of December. On the 8th of December, Christmas season officially starts! On this day the streets in Rome are being decorated, the first Christmas trees will be put up in front of monuments and attractions and the first hot wines will be available on Christmas markets.
Contrary to popular belief, advent wreaths, calendars and counting the Sundays of Advent is not common in Rome during Christmas. Neither do the Romans know about Saint Nicholas (or as he is referred to, Babbo Natale) who visits children in other European countries on the 6th of December. Instead, they'll have a different visitor on the 6th of January, the witch Befana. This is why children in Italy used to receive their Christmas gifts on the 6th of January, and not, as common in other European countries, on Christmas Eve or the 25th of December. This is also the reason why you can find witches on Christmas markets. Babbo Natale doesn't look back on a long tradition in Italy.
Nativity scenes in Rome
Unfortunately, another tradition that has almost been lost over the years is installing the crib and adding the statuette of baby Jesus after midnight on the 24th of December. Romans love to visit the many nativity scenes scattered throughout the city. An absolute must is a visit to the International Exhibition '100 Presepi' in Rome. Since 1976, hundreds of cribs created by international artists from all over the world, have been hosted here. 2018 was the first year in which the exhibition took place in Via di Conciliazione 5 near the Vatican. This exhibition is open from the 8th of December until the 8th of January from 10 am until 8 pm. Admission is free.
Please share with us your pictures and experiences, we want to hear all about your Christmas experience in Rome!
---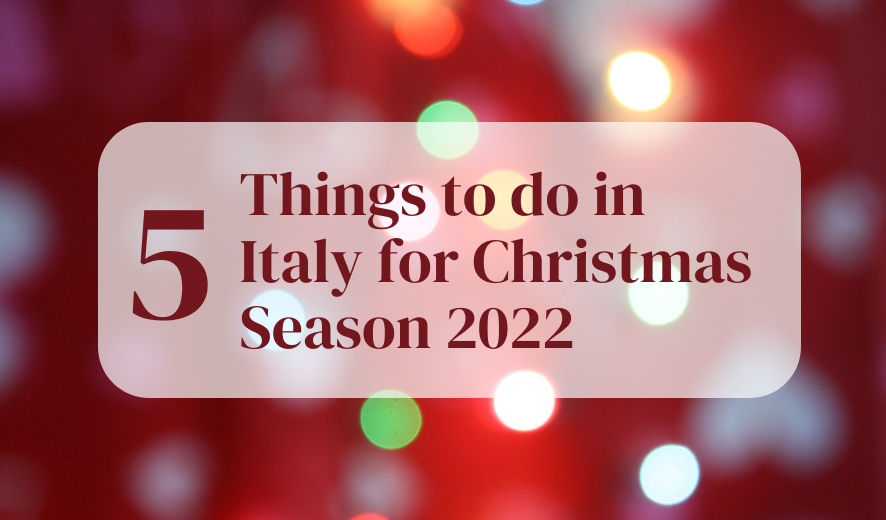 You just arrived in Italy but you don't know what else to do for Christmas after visiting the most famous places and monuments? We have 5 activities for you to do this season that you probably didn't know you could do this year!  #1 – The Vatican's Nativity Scenes Every year, the Vatican City is […]
Italy is a country rooted in tradition.
Socialising over a spritz; parking in the middle of the road; enjoying an aperitivo with a view; sporting sunglasses after dark—such traditions are the glue that binds the nation together.
Parking in Rome is a thankless task; and your choice of eyewear is yours and yours alone. But if you're visiting the capital and want to immerse yourself in Italy's other traditions, a Tipsy Tour should be top of your list.
Boasting over a thousand rave reviews left by tipsy clients from around the world, the Tipsy Tour is one of the most unique experiences in the Eternal City.
This is not your usual tour. It's neither a bar crawl nor a city walk but a combination of both—a heady blend of scandalous stories and traditional drinks, enjoyed slowly, in good company, over the course of three hours.
So what exactly can you expect from a Tipsy Tour?
Here's what I remember from going on mine.
Our Tipsy Tour started on a terrace overlooking the Colosseum
I met my guide and group just before sunset on a terrace above the Colosseum. Our guide, Chiara, broke the ice, getting our group chatting while our hostess, Georgie, poured our drinks—glasses of red or white wine and beer.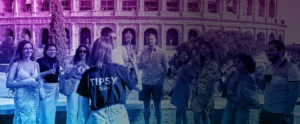 When everyone had arrived, we sat on the stone stairs overlooking the city and sipped our drinks while Chiara took us on a whirlwind tour through Roman history. Starting with Romulus' and Remus' fratricidal squabble that led to the founding of the city, she took us on Rome's journey from a kingdom to a republic to an empire, finishing with the chaotic demise of the emperor Nero.
Telling Rome's story against the backdrop of its birthplace, the Palatine Hill, made the start of the Tipsy Tour extra special. And this was just a taste of what was to come.
After finishing our drinks, we moved on to a nearby bar
But this was no normal coffee; it was a caffè corretto—a corrected coffee.
Corrected' **cracks whip** with a shot of Baileys.
Chiara told us where the tradition of the caffè corretto comes from while we relaxed at the bar and chatted to the others in our group. After 15 minutes we made our way outside and walked the short but scenic route towards the ancient district of Monti.
We then made our way into the underbelly of ancient Rome
As we made our way down towards Monti, Chiara gave us the area's backstory. Monti was once called Suburra. It was a grimy, dangerous district—walled off from Augustus' pristine forum; home to roving gangs, criminals and prostitutes.
Oh, and the birthplace of a certain Julius Caesar.
We were treated to a story set in Suburra's ancient brothels involving Messalina, the wife of the emperor Claudius. Messalina was a woman of insatiable libido – and her decrepit, ageing husband was unable to satisfy her lusts. Because of this, Messalina would often escape the prying eyes of the palace to pass her evening among Suburra's brothels.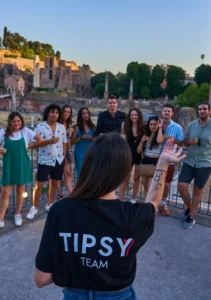 Chiara told us that Messalina once competed with the Suburra's most prolific prostitute over the most men they could please in 24 hours. Messalina came first, finishing with a total headcount of 25 to her adversary's 24. But the real loser was the cleaner, who had one of the worst jobs in the ancient world.
Messalina met a suitably sticky end (and you'll have to join the Tipsy Tour to enjoy all its grisly details). Suffice to say that after her story we needed a drink. So we ducked into a local-looking bar on Monti's cobbled street.
Georgie ordered our spritzes—some aperol, some campari—while Chiara filled us in on where they get their names from. My aperol spritz was perfect; deliciously sweet, as golden as a Roman sunset, and as cold as an Italian border official.
We stayed here for about 45 minutes, spilling out onto the streets and chatting away, before making our way through the imperial fora towards the statue of Caesar.
Our tour finished against the backdrop of Julius Caesar's Forum
Chiara reeled off the highlights of Caesar's eventful life, including his close brush with a gang of pirates, his sexual escapades with Queen Cleopatra, and his pretensions to become king.
She finished with the story of his assassination on the Ides of March 44 BC, when he was stabbed 23 times by his senatorial colleagues as he went about his business in the Senate House built by his rival. This story was made all the more moving as we stood beneath his statue.
We sipped limoncello under Caesar's statue—it's what he would have wanted
Our Tipsy Tour ended beneath a statue of Caesar, against the background of his forum. But this wasn't the end of the night. We followed Chiara past Piazza Venezia to a lively local bar where we kept drinking and dancing until around 3 in the morning.
So what's the verdict on the Tipsy Tour of Rome?
Let's be honest, who doesn't like binging on stories of sex, scandal, and assassination with a traditional Italian drink in hand?
Okay, teetotallers—but they probably won't have read this far. And if you have, the Tipsy Tour also serves a strong selection of soft drinks, so come along as well!
Taking the Tipsy Tour of Rome is the most fun, light-hearted way of getting to know the Italian capital. It's a great way to get some context for the city's ancient attractions while making friends you'll want to stay in touch with—while you're both in Rome and after. When in Rome… be sure to check it out!
---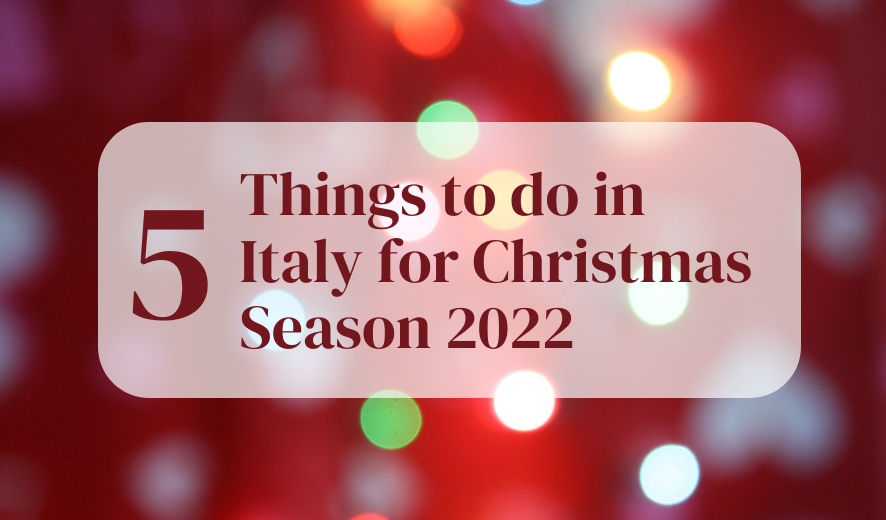 You just arrived in Italy but you don't know what else to do for Christmas after visiting the most famous places and monuments? We have 5 activities for you to do this season that you probably didn't know you could do this year!  #1 – The Vatican's Nativity Scenes Every year, the Vatican City is […]
What is Italian SPID?
SPID (Public System for Digital Identity) is the solution that allows the Italian citizens to access all online services of the Public Administration with a single Digital Identity (username and password) that can be used from computers, tablets and smartphones.
How do I get an Italian SPID?
To obtain SPID you need a valid Italian identification document (identity card, passport, driving license), social security card (tessera sanitaria/tesserino del codice fiscale) or the tax number (codice fiscale) or the respective attribution certificates, an email address and a personal mobile number.
Who can request a SPID?
Anyone can request an SPID, provided they're 18 years of age or older and have the following:
• a valid Italian ID document;
• a health card or tax code card.
You don't have to be an Italian citizen or living in Italy to request an SPID. Foreign citizens residing in Italy and Italian citizens living abroad who are registered with AIRE (Registry of Italian Residents Abroad) can also request a SPID if they have a valid Italian identity document.
How do I request a SPID?
To request a SPID you need the following:
• a valid ID document (such as an identity card, passport, or driver's license);
• a health card or tax code card;
• a personal email address;
• a mobile phone number.
If you are a foreign citizen living in Italy, you need a valid Italian ID document, as your residence permit will not make you eligible for a SPID. You can, however, use your residence permit to get an Italian ID card. Once you have your ID card, you can apply for your SPID.
How do I register for SPID?
When you have all the necessary documents, go to the AGID's (Agency for Digital Italy) website dedicated to SPID and start the procedure by clicking on "Request SPID" at the top. You will be asked to choose from several authorized identity providers and to register on their site.
You need to complete the following steps to register:
1. Enter your personal information.
2. Create your SPID credentials.
3. Verify your identity through the methods indicated by the provider.
If you are an Italian citizen residing abroad and registered with AIRE, you can select one of the identity providers covering your area. Choose one of the icons "EU" or "World".
Verification methods of your SPID identity
The last step of the process is the verification of your identity, which can be done in several ways:
• In person, at one of the offices of your digital identity provider.
• Connecting via webcam with the identity provider through an operator or using a video recording, combined with the bank transfer of a specific sum as an additional security measure.
• Using an Electronic Identity Card (CIE) or electronic passport on the provider's app.
• Using an Electronic Identity Card (CIE), health card or digital signature through a USB token or smart card and the relevant PIN code.
Once verified, your SPID will be activated, and you'll be able to use it to access public services online.
Is SPID free?
It depends. Some providers' services are free. Others require you to pay a fee depending on the features they offer. Please take a look at this chart of providers and go through the different options to choose the one that best suits your needs.
Why is having a SPID so important?
The "Semplificazioni decree" established that by February 28, 2021, PAs will be required to integrate SPID and the Electronic Identity Card (CIE) as the only credentials to be used to access the digital services of the Italian central and local PAs.
By the end of February 2021, PAs will be also required to adopt the PagoPA system for the digital payment of services. Eventually, the IO app features will be gradually expanded to allow users to make self-certifications or submit requests and declarations directly from their smartphone.
SPID credentials: convenient, secure, and digital
You can use your SPID from any device—computer, tablet, smartphone—to access online government services offered by INPS (National Institute for Social Security), Agenzia delle Entrate (National Revenue Agency), MIUR (Ministry of Education, University, and Research), INAIL (National Institute for Insurance Against Labor Accidents), and municipalities.
To log in with your SPID and access online services, click on the "Enter with SPID" button on the relevant site or app.
---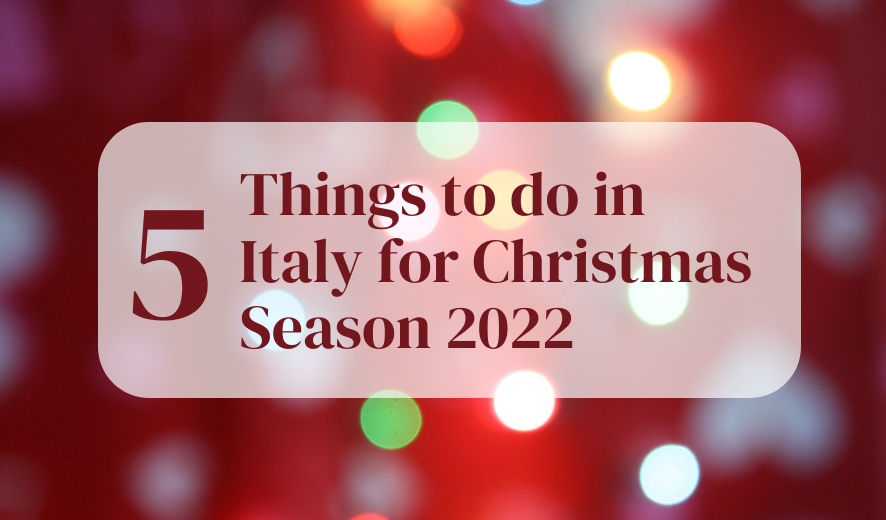 You just arrived in Italy but you don't know what else to do for Christmas after visiting the most famous places and monuments? We have 5 activities for you to do this season that you probably didn't know you could do this year!  #1 – The Vatican's Nativity Scenes Every year, the Vatican City is […]
The codice fiscale is the Italian tax code which you are required to get, whether you'll be working or not, the code is essential in Italy. You'll need it to do many things like opening a bank account to renting or buying property.
You can get a codice fiscale at the Italian consultate office or embassy in your country before you come, or if you are in Italy you can get it from the Agenzia delle Entrate office. We recommend  that you get it before you come to Italy.
How to applying abroad: Request the "codice fiscale" online by filling out this form and sending it, alongside a copy of your passport and visa, if any, and your permanent address outside of Italy to the following email address: [email protected]
How to apply for a tax identification number in Italy: Download this editable Form and you can find instructions on how to fill out this form here.
Remember to print and sign the form, scan and send these documents that are required:
•

Signed form

• Passport

• Print Date Entry Gate Passport/ Declaration of Presence

• Reason for the Request
As you are ready with all documents you can apply your Italian Tax code directly via email. 
 This is the link where you can find Agenzia delle Entrate email address in your district 
1.

Email Subject :

Attribuzione Codice Fiscale – Name & Surname

2. Italian Text Email:  Con la presente email per rimettere in allegato la documentazione relativa alla richiesta del Codice Fiscale come in Oggetto. Grazie
Attach your documents and send it. Normally in 2/4 days you'll receive your document in PDF via email,  fingers crossed. 
Other resources: Tax identification number for foreign citizens
---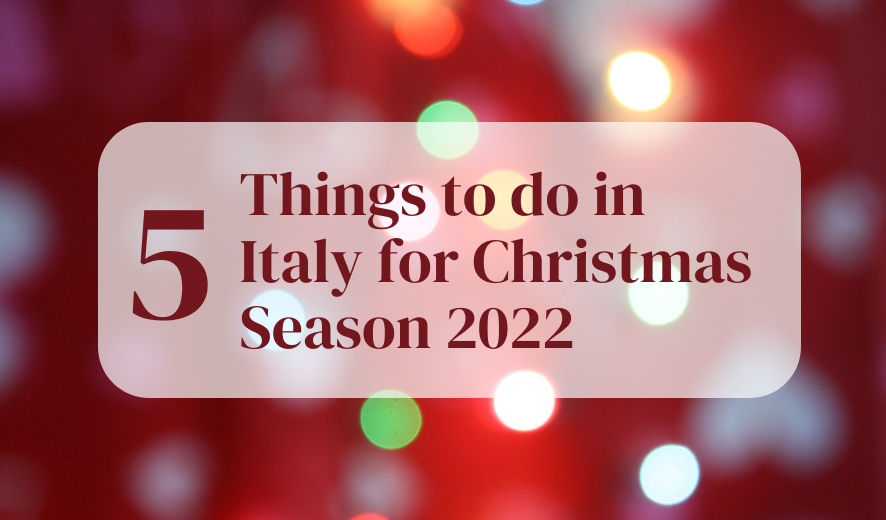 You just arrived in Italy but you don't know what else to do for Christmas after visiting the most famous places and monuments? We have 5 activities for you to do this season that you probably didn't know you could do this year!  #1 – The Vatican's Nativity Scenes Every year, the Vatican City is […]
Visas are issued by the Italian Embassy or Consular Sections of a foreign national's country of residence. Permits to stay are issued in Italy by the Questura (Police Headquarters) having jurisdiction in the province where a foreign national is staying. Foreign nationals are required to apply for residence permits within 8 working days (i.e. excluding Sundays and holidays) of arrival.
Citizens of some foreign countries can visit Italy and stay for 3 months without a VISA. In some cases, citizens can stay for a longer period under a permit of stay or "permesso di soggiorno". In most cases, foreign citizens must return to their country of origin and request a specific VISA at the corresponding Consulate. Therefore, we recommend to ask for a VISA at the Italian Consulate or Embassy of your country of origin in case you want to stay in Italy for a period longer than 3 months.
The most common types of VISA and Permit to stay are the following:
• VISA/Permit for family reunification: valid for a year from the date of issue; it is issued to the sponsoring migrant's family members following approval of a reunification application.
• VISA/Permit for employment purposes (indefinite, fixed-time or seasonal contracts): this can only be issued after obtaining work authorization from the Sportello Unico per l'Immigrazione – SUI (Immigration Desk) at the Prefettura (central government's territorial office). In order to enter into an employment relationship with a non-EU national residing abroad, employers, whether Italians or foreigners legally residing in Italy, are required to apply for permission to hire an individual migrant worker at the Immigration Desk in the province where the job will be carried out.
• VISA/Permit for self-employment purposes: may be applied for to conduct a non-occasional, self-employed work activity in the industrial, professional, handicraft or commercial sectors; to set up a company or partnership; to access corporate managerial positions. In order to obtain such a visa, foreign nationals must fulfil the same professional and moral requirements demanded for Italian citizens by the law with regard to the same type of activity.
• VISA/Permit for highly qualified workers: such is the case of journalists, highly specialized staff who work for a corporation domiciled in Italy, artists, dancers and musicians, etc (art. 27  Decreto Legislativo 25 luglio 1998, n. 286).
• Elective Residency Permit: the Elective Residence Visa/Permit is for those who have chosen Italy as the country of permanent residence and who are able to support themselves autonomously, without having to rely on employment while in Italy, whether as dependent employees, as self-employed employees or employees working remotely online. You cannot finance your residence in Italy through any type of work and to obtain the VISA/permit you must demonstrate that you own a property or that you have signed a lease.
---
​Rental property listing scams are hard to catch and no one wants to be a victim to this kind of fraud. Arriving in a new city and finding out your rental was a scam leaving you to find something last minute can be frustrating.  Lets try to avoid this!
Here are some tips and warning signs to watch out for, ways to prevent being scammed with a fake rental in Italy!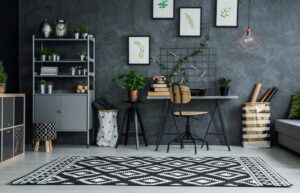 1. You do not need to see the place in person
It's never a good sign if the person who posted a rental listing says that they are not able to or don't want to meet you in person. Even if you're not able to meet in person, you should always be able request a real-time video walkthrough of the rental so you know that the property exists.
A good landlord will make sure that they can meet you either digitally or in person so that they can feel comfortable with trusting you as a renter. Plus, a landlord should want to meet you in person to make sure you're legitimate, as well. Scammers typically don't want to meet you, since they don't want you to be able to report them.
2.  Property is available immediately
You should always see the property before signing a lease or sending any money. It's easy for someone to say they have a property and fake an online listing, so it's best to see the property in person and make sure the place is available. If you do not have someone in the country you pretend you do and this too sometimes works to scare them off.
If you are in the unfortunate position of needing a place immediately, be extra careful. Properties that are available right away can be scams or the sign of a disorganized landlord.
3. They ask for rent or a security deposit before signing a lease and meeting online or in person!
An apparent sign that the apartment you're looking at is a scam is if the property manager, landlord, or realtor asks for rent or a security deposit before signing a lease.
Scammer will tell you they live overseas and need you to forward the money to them in return for the keys. In an even more dangerous scenario, you might be asked to wire money to someone who you have only talked to online. Remember that anyone who doesn't live near the rental itself should have someone, such as a property manager or realtor, who lives in the area and can  manage the rental.
4. Good to be true
A property that is priced well below the going market rate in your area should be an immediate red flag.
Properties like these can be a "bait and switch" situation, where the owner is using a low rent price to lure in potential renters before suddenly taking the listing off the market.
So how can you determine if  the rental is fair market value and not a scam? You should always do your own research on rent prices for units of comparable location, size, and amenities to get a good idea of what rentals in a certain area are being rented for.
5. The listing has Typos, poor grammar, or no price and send a PM
Landlords or property managers will take the time to write a decent listing and proofread it, too. If you come across a rental listing that is full of typos, has poor grammar, and contains excessive punctuation or capitalization, it was likely created by a scammer.
No price and send a PM usually a scam and behind the scene. You post you are looking for something and they comment they sent a PM. Why not share what you are renting?
If you are looking for a room or apartment then look and post on Facebook on these groups Rooms & Apartments for Rent in Rome &  Expats in Rome Noticeboard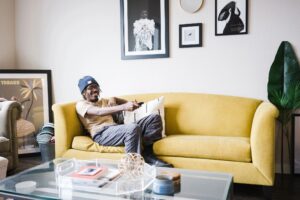 Try these site
Spotahome -Promocode EXPATS15 and get 15% Spotahome bookings
www.immobiliare.it
www.idealista.it
www.casa.it
If you are not in Rome and need someone to check the room or apartment we can send someone on our team or local expert to check it out and verify/confirm it for you. The service is not free and depends on location in Rome or outside Rome. The best thing is to let the person offering a rental know that you will have someone come look at the place before you agree to rent. Usually this is enough to scare the scammer away and you saved time and money. If you are still interested in the rental you can decide if you want to use our services or not.
We do not search for apartments or rooms for you. You would have to find the rental yourself and then we can verify your rental for a fee.
email [email protected] to schedule a free call with us!
---
Other services and resources through our network:

• All relocation services: Immigration, Citizenship & Visas
• Startup programs and free resources
• Free consultancy for startup
• Networking events
• Language exchange &Language lessons
• Property search and purchase assistance
• International hosting services
---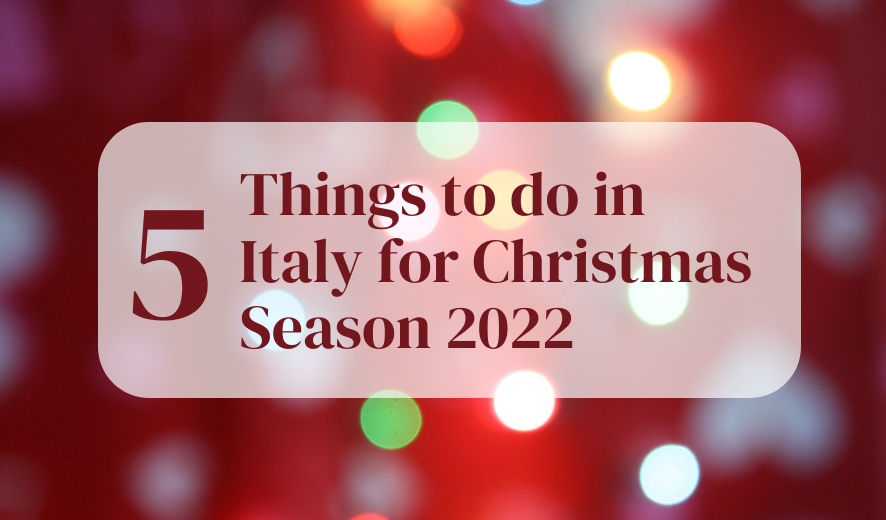 You just arrived in Italy but you don't know what else to do for Christmas after visiting the most famous places and monuments? We have 5 activities for you to do this season that you probably didn't know you could do this year!  #1 – The Vatican's Nativity Scenes Every year, the Vatican City is […]