Events & Holidays happening in Rome in December 2018
Posted on December 3rd, 2018
---
It's Christmas time in Rome and there are holidays that your country does not celebrate or know about. So while looking for Christmas markets and staring at the decorations around town, check out these events and holidays!
December 7 2018 at 16:30, The nativity scene and Christmas tree in Vatican square will be lit on. They will stay lit through the evening of January 13 2019.
December 8, the Immaculate Conception, or Immacolata, is a pretty major holiday in Italy. Shops will be closed but sites are open (except for the Vatican Museums.) At noon, you can head to St. Peter's Square to hear Pope Francis give the Angelus (free, lasting about 15 minutes).
December 8, the Pope visiting Piazza Mignanelli (next to the Spanish Steps), at 16:30, for the changing of Madonna's wreath at the top of the column there. The pope does not do it himself – the firemen do, but he is there for the event. Be prepared for large crowds.
Hanukkah: During Hanukkah, Rome's large Jewish community gathers in Piazza Barberini, where candles on a large Menorah are  lit each evening during the eight-night holiday. The area near Campo dei Fiori is also festive during this time.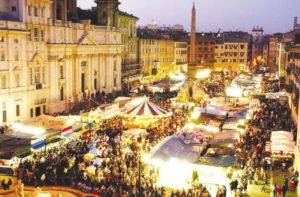 Christmas Markets in Rome: From early December through January 6, visitors will find festive markets in Piazza Navona filled  with stalls selling handmade gifts, nativity crafts, children's toys, and seasonal treats.
Nativity Display: 100 Presepi, a display of Nativity Scenes from around the world, is on display in Sala del Bramante near Piazza del Popolo through January 6. Nativity displays are also set up in most of Rome's churches if you are planning on attending mass or service.
Christmas Eve: Along with being a time to spend with family, Christmas Eve (December 24) is also the night when nativity displays are traditionally completed by adding the baby Jesus or are unveiled, such as the life-size nativity in Saint Peter's Square.
Christmas Day: You can expect everything to be closed on Christmas Day (December 25) as Romans celebrate one of the most religious holidays of the year. Of course, there are many ways to celebrate Christmas in Rome, from attending midnight mass at Saint Peter's Basilica to visiting Christmas crèches around the city.
Saint Stephen's Day: This public holiday is observed on the day after Christmas (December 26), and is typically an extension of Christmas Day, when families venture out to view nativity scenes in churches and visit Christmas markets. The feast day of Santo Stefano, also held on this day, is especially celebrated at churches that venerate Saint Stephen, such as the church of Santo Stefano Rotondo near the Colosseum.
New Year's Eve (Festa di San Silvestro): Just as it is all over the world, New Year's Eve (December 31), which coincides with the Feast of Saint Sylvester (San Silvestro), is celebrated with much fanfare in Rome. Piazza del Popolo holds Rome's largest public celebration with music, dancing, and fireworks and of course, huge crowds.
---