Exciting news for all chocolate lovers!! Fiera di Roma is opening a Chocolate Factory-Museum on November 18th until February 18th, a themed village designed to entertain and educate. Revealing all the secrets of chocolate. Enjoy 3 months of chocolate thanks to an agreement between Fiera Roma and the partner Helexpo, a trade fair organizer in Greece, who has already held the event in Thessaloniki and Athens (over 800,000 ).  Another theme park filled with chocolate in all its shapes.
From the Amazon Jungle Chocolate Library, with a special reconstruction of the vegetation and the ruins of Incas temples, visitors will be able to experience the warmth and humidity of the jungle and will see real cocoa beans. Visitors can also find the Amazon hut, to make a journey in time and discover the history of chocolate. A labyrinth  for delicious tricks, the show of musical instruments in chocolate, with eleven unique pieces reproduced in full size. In addition, it will be the largest chocolate cascade in Europe, with its 1200 liters of liquid chocolate. The Chocolate Factory-Museum will have laboratories where you can learn about chocolate processing techniques, tasting and preparation courses.
To enrich the theme park, you will find Italian Monuments in chocolate. An educational space for children to be involved  There will theatrical games, and information about proper nutrition and health.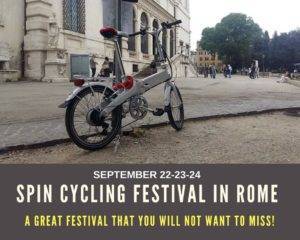 The festival is entirely dedicated to the world of bicycling in Rome: meetings, presentations, exhibitions, concerts and shows. Fun with test tracks, with urban circuit on pavé and one with obstacles for MTB.
SPIN CYCLING FESTIVAL 
22-23-24 September 2017
EXHIBITION AREAVia Guido Reni 7, Rome – Opening hours h 10-19
CONCERTS AND THEATER AUDITORIUM PARK OF MUSIC Via Pietro de Coubertin, 30, Rome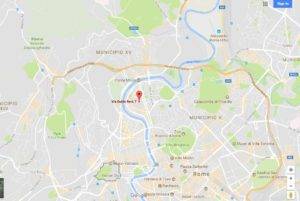 From September 22 to September 24 Italy's capital will hold their first festival dedicated entirely to worldwide bicycles.From famous national and international brands, designers, start-ups, associations and associations will present to the public new products, innovations ideas and reflections on cycling.
Encouraged by enthusiasts, families and all those who want a more livable city, the initiative will cover issues such as cycling, design, technology and safety, with particular emphasis on electric bicycles and freight transport.  Social, food, wine, concerts, shows at Studio Theater nearby Auditorium Parco della Musica.

Over 40 major exhibitors will present the latest developments in the industry, featured by some thematic encounters: inside the Pavilion C,  full fun calendar moderated by Federico Del Prete (vice president of CycloPride Italia APS), which will also offer the public to interact by bringing their own experiences and the more stringent questions for the different speakers. Among them will be Gianluca Santilli, president of Granfondo Campagnolo Roma, Alberto Fiorillo, Metropolitan Area Legambiente Manager, GRAB project spokesman; Anna Becchi, vice president Salvaiciclisti Roma and referent of the Bike To School Rome project; Lamberto Mancini, General Manager of the Italian Touring Club; the writer and musician Andrea Satta and many other stakeholders.
The meeting will be a journey report – seasoned with nonsense and surreal about the experience – ranging from videos produced for the occasion. Another important contribution will be to Dario Pegoretti interviewed by the television journalist Riccardo Iacona, famous for his steel and aluminum handicrafts that have links not only with top-level cycling sports but also with art and technological innovation , praising hundreds of enthusiasts around the world including Marco Pantani and Robin Williams.
Art will be the subject of two exhibitions: a group of well-established international illustrators, designed to enhance the values ​​and beauty of this extraordinary means of transport with a selection of the most prominent works of Taku Bannai (Japan), Emilio Rubione (Argentina) Gregory Baldwin and Sam Peet (England), Teresa Bellon (Spain), and Italians Toni Demuro, Riccardo Guasco and Roberta.
Mistretta (Lazio); and GRAB +, 13 ideas for changing Rome, curated by Legambiente, on new mobility projects and urban regeneration promoted by associations and citizens.
Also featured is the prototype of an improvised bike PulsaR speed record (126.90 kmh) designed by the Policumbent team of Politecnico di Torino and the Minimal Bike, a compact carbon fiber bicycle designed by the famous Dutch designer Bram Moens.
Interaction and fun in the front line with test tracks, with urban circuit on pavé and one with obstacles for MTB, where people can test the bicycle models presented by exhibitors.
BMX and Free style, disciplines that do not count the speed but the evolutions that will be made will be illustrated by the masters of MyFlyZone, a strong reality and reference point in the capital whose goal is to pass the passion for the bike through a team of enthusiastic and motivated athletes who will demonstrate in the various street trial, bmx-flat, mtb-street specialties, basically based on the principles of balance, dexterity and coordination.
For children from 4 to 7 years old, there will be equipped "La Scuola del Traffico", a cycle path with a road map with all the signage elements connected to the spaces of a hypothetical miniature city.  A real road education project, organized by the Linaria cultural association, aimed at encouraging children to acquire appropriate and safe behaviors in the street. Small ones can access you by taking your own bicycle home.
For older boys, from 7 to 12 years old, Mountain Bike Cycling School is planned, organized by Bikeshop Rome with qualified masters to learn how to deal with dirt paths.
Two interesting initiatives will be made in the world of childhood, both at the Auditorium Parco della Musica: on 23 and 24 September will be held the show of the Bianco Teatro company on the circus life of Alfonsina Strada, the only woman who participated in the Giro d'Italy of men in 1924 (Saturday, 16, Sunday, 11 am); to follow the "Bicycles like Butterflies" workshop, edited by Fernanda Pessolano / Lucos Cozza Bicycle Library, which will see the small participants build a small paper theater with simple folding techniques to stage a story of animation.
The music will continue to be the protagonist at the Teatro Studio of the Auditorium Parco della Musica with concerts THE REPUBLIC OF BICYCLES by Guido Foddis and the Pedals of Ferrara, a concept performance with excerpts dedicated to the heroes of the Giro d'Italia (September 23, 21st) and TÊTES DE BOIS, who in their rock-folk-poetic show will give a special tribute to Alfonsina and the world of cyclists (September 24, at 9 pm).
In the pavilions of the Guidi Reni District will also be set up a "Cicloclub" (from 19 to free admission) inside which will be screened some shorts video and documentaries selected by magmatic material available on the net, ranging from urban cycling to Artistic Cycling, from extreme stunts to how to go shopping every day: stories and portraits from around the world for a bicycle culture all to watch, ranging from videoclips with hundreds of thousands of views to strange small masterpieces.
The Spin Cycling Festival will also award the Euromobility National "Pensieri & Pedali" Award for those (musicians, authors, writers, journalists, directors) who have, in various ways, promoted the "bicycle culture" in their artistic and professional work , already assigned the latest personalities such as Mogol, Enzo Iannacci, Bruno Gambarotta, Bruno Pizzul, Luca Carboni, Paolo Belli, Ficarra & Picone and Filippa Lagerbäck.
In collaboration with Granfondo Campagnolo Roma will be awarded the last 100 special price bets for participation in the "Granfondo Campagnolo Roma" and the cyclopedalata "In bici ai Castelli".
The corollary of the event will be a "night lighted" pedal on the streets of the city (Saturday 24pm, departing from Guido Reni District), promoted by FIAB Roma Ruotalibera, to raise awareness of who uses the bicycle to be visible at night. Lights, reflectors, reflective jacket and everything – even if not explicitly mentioned in the Street Code – can help make the cyclist visible – a wonderful occasion to unleash your fantasy!
The corollary of the event will be a "night lighted" pedal on the streets of the city (Saturday 24pm, departing from Guido Reni District), promoted by FIAB Roma Ruotalibera, to raise awareness of who uses the bicycle to be visible at night. Lights, reflectors, reflective jacket and everything – even if not explicitly mentioned in the Street Code – can help make the cyclist visible – a wonderful opportunity to spin their fantasy with reflective dresses.
Spin Cycling Festival Rome is organized by the IMF Foundation with the support of Roma Capital – Cultural Growth Department, FCI's sponsorship – Italian Cycling Federation, FIAB – Italian Bicycle Friendship Federation, Euromobility, Touring Club Italiano partnership, FIAB Roma Ruotalibera , Granfondo Campagnolo Roma, CycloPride Italia APS, the technical sponsorship of Ecopneus and Smaf Broker and the media partnership of Sound Size Roma and Urbancycling.
The initiative is part of the Roma Summer Program 2017 promoted by Rome Capital-Council for Cultural Growth in collaboration with Siae.
TICKETS
GUIDE FOR THE DISTRICT
Full € 10
Reduced € 8 partners and conventions
Subscription for three days € 20
from 0 to 12 years free admission
AUDITORIUM PARK OF MUSIC
Concerts and theater € 5
Workshops € 2
WHERE TO BUY
ticketone.it
ticket sales points
ticket office @ Guido Reni District
Ticket @ Auditorium
Official website: http://www.spinrome.com
Info: [email protected]
Official FB Page: Spin Cycling Festival – Roma – Il Festival di chi ama la bicicletta
ALBA VOICE – High Quality Audio Systems For Tours Rome