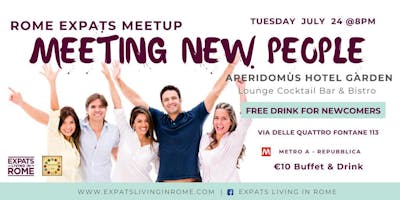 EVENT DETAILS & RESERVATIONS
Meeting new people on Tuesday night with Rome Expats & Diplomats. Great way to make new friends, connections, network and language exchange.

Free welcome Drink for newcomers with reservations!

Don't be shy…be social!! We'll introduce you to newcomers. We connect people online and take them off line to connect in real life!! More about us here

✔ This event gives you great opportunity to network & socialize with fellow expats in a friendly and informal atmosphere.

➡ 19:30 to 21:00 – Italian & English Lessons for those that signed up

➡ 20:00 – MEET & GREET before we EAT

➡ 20:30 – Food & Friends HAPPY HOUR(S) start

Cost with full buffet €10 food & drink – 2nd drinks Beer/Wine €5 Cocktails menu price

NEW TO OUR EVENTS: Please introduce yourself to someone on Rome Expats Team so that we can help you network and introduce you to others. 

We learn before we Meet & Greet – We offer Italian or English lessons from 19:30- 21:00 – Try it FREE before you sign up. 

Thank you
Expats living in Rome ( #romeExpats )
info@expatslivinginrome.com 

Run by Expats and sponsored by English friendly businesses!!