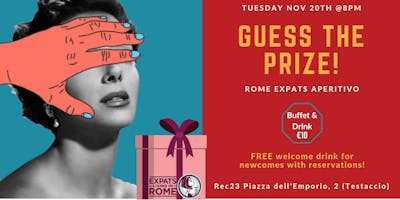 EVENT DETAILS & RESERVATIONS
Guess who it is and win GET a Free drink! Let us know if you want to play during the event. Remember +100 people attend every week and if you are new please let us know, so that we can introduce you!
Don't be shy…be social!! We'll introduce you to newcomers. We connect people online and take them off line to connect in real life!! More about us
here
.
➡ 19:30 to 21:00 -Italian & English Lessons for those that signed up.
➡ 20:00 – MEET & GREET before we EAT.
➡ 20:30 – Food & Friends HAPPY HOUR(S) start.
Cost with full buffet €10 food & drink – 2nd drinks Beer/Wine €5 Cocktails menu price.
Non members €13 with reservations & €15 with no reservations – 2nd drinks Beer/Wine €5 Cocktails menu price.
If you are attending for the first time please introduce yourself to someone on the Rome Expats Team, so that we can help you network and introduce you to others. 
Thank you
Run by Expats and sponsored by English friendly businesses!!
Become a sponsor today! Contact info@expatslivinginrome.com