Learn Italian in a fun and easy way!
SUMMER HOURS & INFO!!
TUESDAY NIGHTS CHANGE LOCATIONS IN THE SUMMER!!  Lessons are always at the same locations as the MEETUP on TUESDAY. Students come at 19:30 -21:00 and welcome to stay and hang out for the social Aperitivo too! Give yourself time to get lost. Once you find us, you will see it was easier than you thought!
When it rains we are automatically at Rec23 (Testaccio) Piazza Dell'emporio 2 (NOTE Rec23 has 2 locations 1 in testaccio and 1 alongside the river lungotevere, where all the summer fun is set up! Always best to read event info.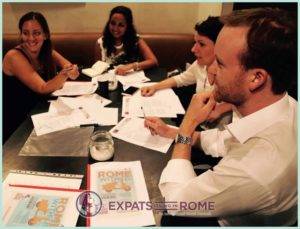 Learning another language can be difficult and uninteresting, so we have organized a fun way to learn and practice Italian. Living in Rome or any other country and not knowing the language can make things frustrating and communication is important. We can help you with that.
Our teachers are experienced, qualified and motivated. We offer real lessons with grammar instruction and conversation, for all levels.
Our teachers make learning fun and interesting so you enjoy each class. Lessons are held at the same location as HAPPY HOUR on Tuesday nights. We do change locations occasionally, but all locations are central and easily accessible with public transport.  After class you can join us for language exchange, make new friends, socialize and network. How cool is that?

Want to learn Italian for daily living in Italy?
 Are you interested in how to communicate while shopping, booking a hotel room, or making reservations at a restaurant?

 Want to improve your skills you already have?  
Are you ready to take the challenge?
 Tuesday night classes
Package of 8 lessons cost €80.00

Lessons are on every Tuesday night at 7:30 pm -9:00 pm

You can cancel lesson same day up till 11:00 am
You can suspend your lessons if you are out of town for a period of time so that you do not lose your credits
Book a free class today lessons@expatslivinginrome.com