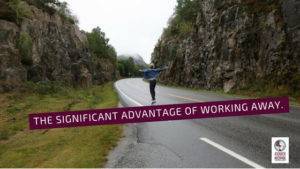 YOU love traveling. Do you want to discover new places across the World? How many foreign languages do you know? Is working with a family, seeing a new country, learning the local language, your dream?
Workaway Association could be the right way to do it! You might have the possibility to have free hospitality by someone or a family, located in the US, South of America, Australia or New Zealand, UK or in the rest of Europe even Asia.
It is possible, if you open a personal account,  filling out your information, and after, you have to pay an annual fee, which gives you the opportunity to contact all subscribed hosts and start your search.  Don't wait any longer; the research could start, now! America, Asia, Australia or Europe; where do you want to go? What do you would do? Cleaning homes, baby or dog-sitter, building houses, horticulture, shopping or teaching your mother tongue. Many ideas right? Your future experience abroad could be unforgettable.
Foreign people who come to Italy or Rome could do it by Workaway.  An Italian family or anyone, young or older who lives alone, could give them free and comfortable hospitality, the possibility to do a real-life experience, working and learning the Italian language. Knowing and learning about art, culture, visiting all based museums and cooking traditional Roman meals,  like Carbonara or Amatriciana Spaghetti, Gricia (White Amatriciana without tomato), Tonnarelli Cacio e Pepe (Italian Pasta with cheese and black pepper), Abbacchio, the typical local meat, Carciofi Alla Giudia, Coda Alla Vaccinara, Pagliata and Trippa Alla Romana. Eating all of these, a pleasure!
Jean-Paul and Martine; Swiss nationals, they both lived this experience and know it very well. They saw Rome in 2007,  but came here without any Organization; booking the travel alone. "Pretty, fantastic, many interesting things to discover and learn, great food.  Rome, a historic town to be discovered", they said about the Eternal City. Jean-Paul and Martine live in Palezieux: 18 kilometers before Lausanne, the idyllic Swiss town. Palezieux Gare and Palezieux Village. Another example of a pretty place you can visit by Workaway Association. Jean-Paul and Martine are subscribed, as hosts, to the same association.
In Palezieux Gare, where they live, few meters from the station the "Ducret Flowers" company is there. Since 1943, the company of Jean Paul, his brother Roland and also his wife Martine, today. A family who loves nature, green plants, all kind of flowers and all that of been biological. Horticulture, working on the garden in the morning, cutting or cleaning it, putting new seeds in the ground and taking care of all house pets: dog, parrots, and little birds. All kinds of daily work that many volunteers might do; it happens if you come in Switzerland and taking the hospitality by Jean-Paul and Martine. Husband and wife, retired from their professional career, both love biological, ecological and green life. Working at their home, you also might discover the real meaning of doing a building and creative work: all possibilities that give you an extraordinary experience and beautiful moments.
The significant advantage of working away.
---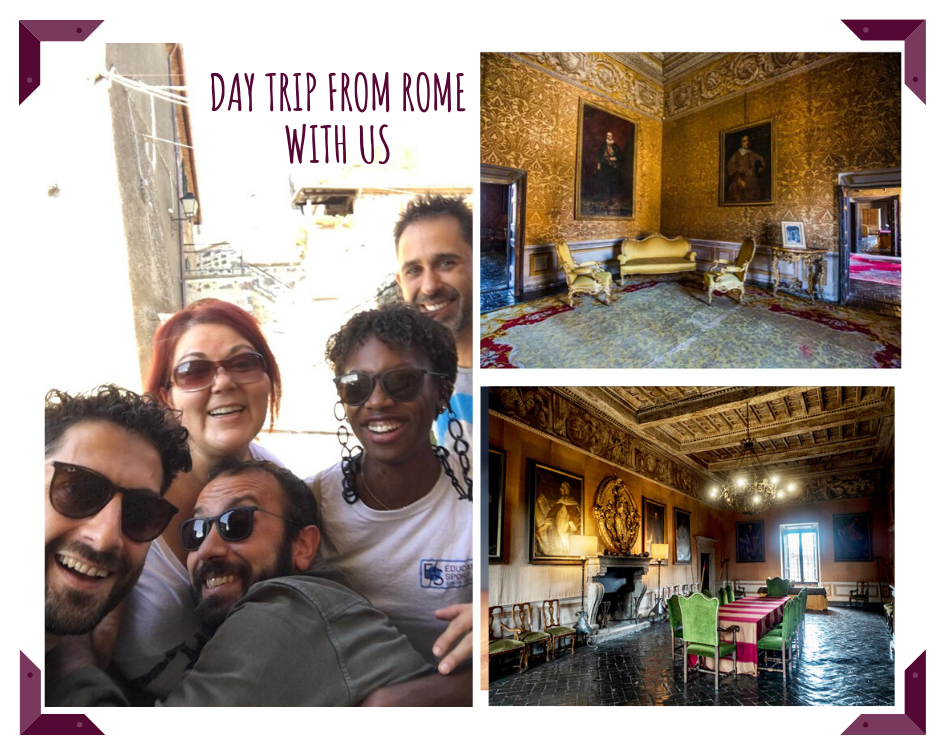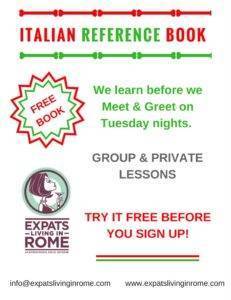 Learning another language can be difficult and uninteresting, so we have organized a fun way to learn and practice Italian. Living in Rome or any other country and not knowing the language can make things frustrating and communication is important.  We can help you with that.
Our teachers are experienced, qualified and motivated. We offer real lessons with grammar instruction and conversation, for all levels.
Teachers make learning fun and interesting so you enjoy each class. Lessons are held at the same location as HAPPY HOUR on Tuesday nights. We do change locations occasionally, but all locations are central and easily accessible with public transport. After class you can join us for language exchange, make new friends, socialize and network. How cool is that?
Want to learn Italian for daily living in Italy?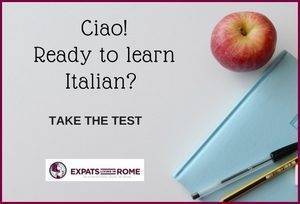 ➡ Are you interested in how to communicate while shopping, booking a hotel room, or making reservations at a restaurant?
➡ Want to improve your skills you already have?
➡ Are you ready to take the challenge?
Tuesday night classes
➡ Package of 8 lessons cost €80.00
➡ Lessons are on every Tuesday night at 7:30 pm -9:00 pm
➡ You can cancel lesson same day up till 11:00 am
➡ You can suspend your lessons if you are out of town for a period of time so that you do not lose your credits
Levels:
Zero – This is for the students that know absolutely nothing.
Beginners – Will work on building vocabulary and some grammar. It's best to learn vocabulary and less grammar in this stage.
Intermediate/Advanced – Some grammar, some conversation, and error correction.
Advanced/Conversation – Speaking & reading & listening – learning how to speak more freely and naturally.
How to Enroll?
Sign up and become a member for free here and fill out the form.  Once we have accepted you, we will send all additional info for the class.  You can TRY IT FREE before you sign up without obligation.  If you decide to sign up there is  a ONE-TIME  enrollment fee of €40.00.  After you have filled out the form and become a member send us an email at [email protected] and let us know which Tuesday you like to come in for your try lesson and what level you are.
How many students are in our classes?  Class sizes generally range from 2 to 8 students in each class. The average number is 4/6.
Where are the students from and their age?  Students are from all over the world. The average age is 21 to 45.
PAYMENT METHODS:
Bank transfer (Bank fees at your own expense)
Credit card
Paypal
Cash
Private lessons:
If interested in private lessons we can organize that for you. We have for individual, groups, travel, translations, and business planning. We send our teachers to your home or office. We work with companies, organizations, and universities in Rome. Contact us for more details.
There are NO classes on national or local holidays.
Cancellation and refunds:
➡ Cancellation 15 days before start date you will receive a full refund. (except any bank or paypal fees) (Bank fees at your own expense)
➡ The deposit paid will not be refunded in case of cancellations made less than 15 days.
➡ There are no refunds for students who begin the course later than the official starting dates, and no refund for those that miss classes.
➡ If you can not attend class let us know the same day before 11am and we will not count the class. For those that travel for work/pleasure can send an email to [email protected] and let us know.
Just a few reminders:
➡ It's your responsibility to know where the lesson is each week by checking the website.
➡ You can receive whatsapp notifications on Tuesdays to remind you where we are. In this case send a whatsapp message with your Full Name to +393386771753 you will be automatically saved and in the system. You can be removed from notification by responding to our broadcast REMOVE at anytime. You have to save our number otherwise the broadcast message from whatsapp will not be delivered to your phone.
➡ If you know you are going to continue for the following month contact us to reserve a spot.
➡ If you feel the lesson is too hard or easy let us know so that we can change your level. Speak with your teacher first about it.
➡ Do not arrive more than 10 minutes late as it interrupts the class. You can arrive late and ask for worksheets of missed lessons if you wish.
➡ For those that attend Tuesday night classes before the HAPPY HOUR and like to get a drink please come 5 minutes early to order it before class starts.