#POSSO Time is equal for everyone
Now that you are forced to stay at home, it's time for new ideas!! Introducing Posso, a digital platform created by Onemore Pictures and created by Direct2Brain, online since April 8, which allows everyone to share their skills, abilities, words, stories for free. A a place to share your time with others.
Rai, Rai Cinema and Rai Com accompany the project as a media partner, promoting the launch of the platform with a commercial on all TV, radio and web channels. Campaign soundtrack the song entitled "I can" by Carl Brave and Max Gazzè.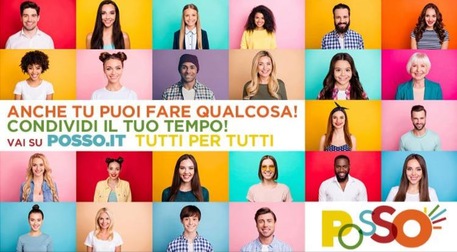 Posso is a website and an app that allows users to exchange their time. POSSO:  is a place where time can be shared, and especially in this time of forced isolation, creating solidarity, social bonds, interaction between people, with the ambition to continue after the end of this global emergency.
The target is wide open and the expected goals are several:
1) To help the people to overcome the provoked sense of uselessness caused by isolation.
2) To contribute to the real needs of those who have practical issues for which it is difficult to find a solution. For example: a lady who receives a letter from the national tax agency, that she has difficulty understanding, can contact a network expert ready to offer information. In return, the same lady will give her time to teach someone how to cook. Another example could be a student who wants to learn about a job can find someone ready to devote his time to help him and in return he could give English lessons to someone else.
3) Through the technological infrastructure, it can be possible for people to understand the multitude of "opportunities" that open up when we are together, by exchanging skills, knowledge, stories and personalities. 
With this purpose, the project becomes a valorisation example of the Italian National Reputation: a place, a country, a community, united by the things we are able to do and share. 
The pandemic forced us to have a common experience: the imposed quarantine in our homes and the adaptation to social distance, as requested by the government and explained by the experts. This condition is regardless of age, gender, economic, cultural or health conditions and, in many cases, generates discomfort, uncertainty, anxiety and loss of everyday patterns. 
Nobody can replace real life only with "PASSIVE VIRTUALITY". Human contact is necessary even if it's expressed through distance. In addition, most people need to feel USEFUL. 
Furthermore, in such a complex situation, solving simple matters can become a serious problem. 
This is the reason why we believe that this initiative will become a sharing moment but it can also be real help for those who have real needs and do not have the skills and knowledge to solve them. 
The exchanges, the opinions and the professional advices will be all free. It will help people to not feel alone while they're dealing with everyday life problems. 
Posso is a virtual place with real effects, where we can all be equal: artists, sportsmen, experts and ordinary people. 
Posso is the space where everyone makes available a few hours of what they can do as a profession or passion. POSSO is a safe area in which we can feel united and protected. 
In order to reach a higher number of users and let them know about this service, we are asking celebrities and well-known people to make their videos available as real master classes. Or simply by making people happy through social contact. Just imagine the morale of an elderly man after he has been talking to one of the 1982 Football World Champions like Antonio Cabrini or after he has enjoyed a singing, acting, diction lesson with one of his "myths". 
Posso can start only with everyone's contribution. 
Together we will do it. Thanks. 
One More Pictures
Supporting the project are artists, professionals and sports fans loved by the public, including Giulio Base, Alessio Boni, Massimiliano Bruno, Giovanni Caccamo, Cristiana Capotondi, the brothers Damiano and Fabio D'Innocenzo, Claudia Gerini, Valeria Golino, Gabriele Mainetti, Gabriele Muccino Rocio Munoz Morales, Francesco Pannofino, Katia Ricciarelli, Sebastiano Somma, Samanta Togni, journalists Tonia Cartolano and Francesco Giorgino, Alberto Matano, Andrea Vianello. The sports champions, Antonio Cabrini and Andrea Lucchetta. The protagonists are also the excellence among specialists such as the oncologist Adriana Bonifacino, the nutritionist Sara Farnetti, the vascular surgeon Roberto Chiappa, the psychologists and psychotherapists, Anna Rita Verardo and Maddalena Cialdella, the lawyer Geraldine Pagano (Amori Criminali); Simone Belli, make up artist of the stars; Massimo Serini hairstylist for Italian and international stars.
---
Rome is a city with countless things to see and do, but sometimes the best experiences are the ones that are a little off the beaten path. Here are five lesser-known things to do in Rome that are perfect for a group of friends that you will meet on your way! Visit the Catacombs […]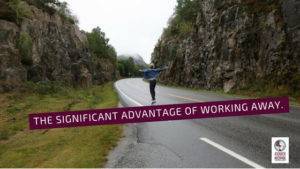 YOU love traveling. Do you want to discover new places across the World? How many foreign languages do you know? Is working with a family, seeing a new country, learning the local language, your dream?
Workaway Association could be the right way to do it! You might have the possibility to have free hospitality by someone or a family, located in the US, South of America, Australia or New Zealand, UK or in the rest of Europe even Asia.
It is possible, if you open a personal account,  filling out your information, and after, you have to pay an annual fee, which gives you the opportunity to contact all subscribed hosts and start your search.  Don't wait any longer; the research could start, now! America, Asia, Australia or Europe; where do you want to go? What do you would do? Cleaning homes, baby or dog-sitter, building houses, horticulture, shopping or teaching your mother tongue. Many ideas right? Your future experience abroad could be unforgettable.
Foreign people who come to Italy or Rome could do it by Workaway.  An Italian family or anyone, young or older who lives alone, could give them free and comfortable hospitality, the possibility to do a real-life experience, working and learning the Italian language. Knowing and learning about art, culture, visiting all based museums and cooking traditional Roman meals,  like Carbonara or Amatriciana Spaghetti, Gricia (White Amatriciana without tomato), Tonnarelli Cacio e Pepe (Italian Pasta with cheese and black pepper), Abbacchio, the typical local meat, Carciofi Alla Giudia, Coda Alla Vaccinara, Pagliata and Trippa Alla Romana. Eating all of these, a pleasure!
Jean-Paul and Martine; Swiss nationals, they both lived this experience and know it very well. They saw Rome in 2007,  but came here without any Organization; booking the travel alone. "Pretty, fantastic, many interesting things to discover and learn, great food.  Rome, a historic town to be discovered", they said about the Eternal City. Jean-Paul and Martine live in Palezieux: 18 kilometers before Lausanne, the idyllic Swiss town. Palezieux Gare and Palezieux Village. Another example of a pretty place you can visit by Workaway Association. Jean-Paul and Martine are subscribed, as hosts, to the same association.
In Palezieux Gare, where they live, few meters from the station the "Ducret Flowers" company is there. Since 1943, the company of Jean Paul, his brother Roland and also his wife Martine, today. A family who loves nature, green plants, all kind of flowers and all that of been biological. Horticulture, working on the garden in the morning, cutting or cleaning it, putting new seeds in the ground and taking care of all house pets: dog, parrots, and little birds. All kinds of daily work that many volunteers might do; it happens if you come in Switzerland and taking the hospitality by Jean-Paul and Martine. Husband and wife, retired from their professional career, both love biological, ecological and green life. Working at their home, you also might discover the real meaning of doing a building and creative work: all possibilities that give you an extraordinary experience and beautiful moments.
The significant advantage of working away.
---