Did you know that every last Sunday of the month Vatican Museums are free?!
Are you an expat living in Rome or planning to move to Rome? One of the benefits of living in this vibrant city is the opportunity to explore its rich cultural heritage, including the Vatican Museums. If you're looking to make the most of your expat experience in Rome, then you won't want to miss the chance to visit the Vatican Museums for free on the last Sunday of the month.
As an expat, it's essential to find ways to immerse yourself in the local culture and history of Rome. The Vatican Museums are an excellent place to start. With over 70,000 works of art and artifacts on display, the museums offer a glimpse into the history of the Catholic Church and Rome's art and architecture. From the stunning Sistine Chapel to the Egyptian Museum, there is something for everyone at the Vatican Museums.
Founded in the early 16th century by Pope Julius II, the Vatican Museums within the Vatican City display works that have been amassed by the Catholic church over the centuries. You will find classical sculptures, tapestries, and paintings by Renaissance greats such as:
Raphael
Caravaggio
Michelangelo
Bernini
Da Vinci
They also have a collection of Modern Religious Art with works of artists like Carlo Carrà, Van Gogh, Gauguin, Salvador Dalí, and Pablo Picasso.
The school of Athens, Raffaello
The Vatican Museums are a popular tourist destination, and the admission fees can be quite steep. However, as an expat, you have the unique advantage of being able to visit the museums for free on the last Sunday of the month. This is a fantastic opportunity to explore the museums without breaking the bank.
To make the most of your free admission to the Vatican Museums, it's important to plan your visit in advance. The museums can be crowded, so it's best to arrive early in the morning to avoid long lines. You may also want to consider purchasing a guidebook or hiring a local guide to help you navigate the museums and learn more about the exhibits.
The free entrance time is: 9:00 – 12:30 closing 14:00. There is also possibility of guided tours upon reservation.
While you're at the Vatican Museums, don't forget to visit the Sistine Chapel. This famous chapel is home to Michelangelo's masterpiece, the ceiling fresco, and The Last Judgment. The Sistine Chapel is a must-see for anyone visiting the Vatican Museums.
Another tip for expats visiting the Vatican Museums is to take advantage of the audio guide. The audio guide provides an informative tour of the museums and gives you a deeper understanding of the history and significance of each exhibit.
In addition to the Vatican Museums, Rome is home to many other cultural attractions, including the Colosseum, the Roman Forum, and the Pantheon. As an expat living in Rome, it's essential to take advantage of these unique opportunities to explore the city's rich cultural heritage.
If you're an expat living in Rome, don't miss the chance to visit the Vatican Museums for free on the last Sunday of the month. With a little bit of planning, you can make the most of your visit to one of the world's most famous museums and immerse yourself in the history and culture of Rome.
Buy the Vatican Museums tickets here
Coronavirus: a new decree signed overnight by the Prime Minister Giuseppe Conte and published in the Official Journal contains more stringent measures to contain the spread of the virus in Lombardy and in 14 other provinces where the number of infections are greater.
A series of other measures are valid throughout the national territory. Compared to the initial draft, which began to circulate yesterday evening, there are 14 provinces and not 11 provinces, in addition to Lombardy, affected by more rigorous measures to contain the infection.  These provinces are Modena, Parma, Piacenza, Reggio Emilia, Rimini, Pesaro e Urbino, Alessandria, Asti, Novara, Verbano Cusio Ossola, Vercelli, Padova, Treviso and Venezia.  The measures stated in the decree are valid from today, March 8, until April 3.
RED ZONE MEASURES (Article 1 of the decree of 8 March 2020)
It is forbidden to enter and exit
Travel in and out of Lombardy and the 14 provinces stated above is prohibited. One can only move for emergencies or "proven" work needs, which must however be authorized by the prefect. Absolute ban on mobility for those who have been in quarantine.
Schools closed until April 3 - The teaching activity for schools of all levels, universities and academies is suspended until April 3.
Bars and restaurants open from 6 to 18 - The decree states an opening hours allowed for restaurant and bar services, from 6 to 18, provided that a place is able to comply with the "obligation" to ensure the interpersonal safety distance of 1 meter in the premises, with the sanction of suspension of the activity in case of violation. The suspension of exams for a driving license is also ordered.
Closed gyms and swimming pools. Derogation for games behind closed doors
The decree also establishes the closure in Lombardy and in the 14 provinces mentioned above of all gyms, swimming pools, spas and wellness centers. Outdoor sports competitions are allowed only behind closed doors (no fans). Shopping centers will have to be closed but only on the weekend. Other commercial activities, other than catering, may remain open on condition that they are able to guarantee a distance of one meter between customers. Instead, museums, cultural centers and ski resorts are closed. Contests are also suspended.
No weddings or funerals. Cinemas and theaters are closed
Civil and religious ceremonies, including funeral ceremonies, are suspended. All organized events are also suspended, as well as events in public or private places, including those of a cultural, recreational, sporting and religious nature, even if held in closed places but open to the public, such as large events, cinemas, theaters, pubs, schools dance halls, game rooms, betting rooms and bingo halls, discos and similar places.
Holidays
Whenever possible, employers are advised to encourage the use of ordinary leave or holidays by their employees.
---
VALID MEASURES IN THE REST OF ITALY (Articles 2 and 3 of the decree of 8 March 2020)
Schools are closed until March 15th
The teaching activity for schools of all levels and universities remains suspended until March 15th. Educational trips and school trips are suspended until April 3.
Cinemas, theaters and museums are closed
Throughout the whole national territory, the suspension of cinematographic, theatre events and events and shows of any nature "carried out in every place, both public and private". Opening of museums is suspended. The Municipality of Rome announces that it has ordered the closure of all museums, theatres and all places and institutes of culture.
Closed pubs, discos and bingo
Pubs, dance schools, game rooms, betting rooms and bingo halls, discos and similar clubs are suspended.
Bars and restaurants, gyms and swimming pools are open but with an obligation to keep distance of 1 meter between customers.
The managers of catering businesses can continue to keep the premises open, provided that they guarantee the interpersonal safety distance of at least one meter. Same goes for gyms and swimming pools, which can remain open as long as the visitors are guarantee safety distance from each other.
Limit travel
Among the preventive measures, art. 3 point C reads: "It is recommended to limit, where possible, the movement to strictly necessary cases".
Prohibition of staying in emergency rooms
Patient carers cannot stay in the emergency room waiting. Access of relatives and visitors to hospitals is also limited.
Prohibition of mobility for quarantined individuals
Even in the rest of Italy who is in preventive quarantine or has tested positive for the virus cannot move from home.
No civil and religious ceremonies, including funerals
Weddings and funerals are also suspended throughout the country.
Medical congresses suspension
Conferences, meetings and events involving healthcare personnel are suspended.
Prison visits
The decree provides for people in prisons to carry out the visits not in person but by telephone or video.
Holidays
As in the red zone, same goes for the rest of Italy, whenever possible, employers are advised to encourage the use of ordinary leave or holidays by their employees.
Public transport and sanitation of vehicles
Public transport companies will have to take extraordinary measures to disinfect their vehicles.
Communicate to ASL (national heath care company) if you come from the red zone
Anyone returning to Italy from countries at epidemiological risk must communicate it to the competent ASL office. But also those who have passed through the red zones in the last 14 days (article 5, point 2).
---
THE SANCTIONS
Failure to comply with the decree is punished according to the article 650 of the Criminal Code, as required by the law of 23 February, i.e. with the arrest of up to 3 months and a fine of up to 206 euros.
Original article in Italian and the PDF of the decree you can read here.
---
Rome is a city with countless things to see and do, but sometimes the best experiences are the ones that are a little off the beaten path. Here are five lesser-known things to do in Rome that are perfect for a group of friends that you will meet on your way! Visit the Catacombs […]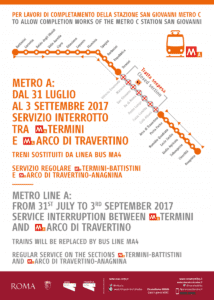 Metro A, will partially clost for work in progress from 31 July to 3 September, Service is interrupted between Temini and Arco di Travertino 
To allow for completion for San Giovanni station (Metro C), from July 31st to September 3rd service on Metro A is interrupted between the Termini and Arco di Travertino.
The service will continue as normal between Termini and Battistini and between Arco Travertino and Anagnina.
The Termini – Arco Travertino and vice versa are covered by the MA4 bus, which stops near each station.
The 7 stations affected are Vittorio Emanuele, Manzoni, S. Giovanni, Re di Roma, Ponte Lungo, Furio Camillo and Colli Albani  direction Arco Travertino.
The MA4 line remains  the same time as Metro A: first departure at 5.30, last departure at 23.30 (Sun / Thu) and 1.30 (Fri / Sat)
During the construction the MA4 shuttle bus service will cover the route affected by the station,  and the Metro A line will operate as normal between Termini and Battistini, and between Arco di Travertino and Anagnina.
I like living in Rome but I don't think I would like it in any other part of Italy!
I am Patrizia from upstate New York now living in Rome. My parents were both from Caserta, Italy and immigrated to the US when I was only an infant.  I was an Expat since I was a year old.
Why Italy?
I guess it was destiny!! My mother always wanted to return to her home country and wasn't able to do that due to a quick illness and sudden death. Our move back was canceled and we stayed in the US. I always remembered my mom talking about Italy as if it were paradise. I guess in a strange way I am fulfilling her dreams. Doing that I have learnt more about my mother and her culture.
Likes/dislikes about Italy and the Italians?
I like living in Rome but I don't think I would like it in any other part of Italy. I have traveled and lived in other places but something draws me back here. The beauty of the city, and the nightlife, healthy lifestyle.
Has your life style changed since you moved to Rome? If yes, how?
I have been here so long that I am not sure what my old life style was 16 yrs ago 😉 I eat better and more picky about what I have.  I have the convenience of having a car in the driveway or find easy parking.  I adapted to things in Rome now.  I am less materialistic but picked up a few superficial behaviours as well.
What is the the first thing you do when you go back to your home country?  
Visit family of course, then find social networks and make new connections 😉
Does Italy/Rome seem multicultural?
Good question – I can say it is MultiCultural among those that have lived somewhere besides Italy all their lives. Rome has a meetup for foreigners and locals to meet everyday of the week. On some days there are 2 meetups for a Cultural or Language Exchange. So yes Rome is very multicultural.
Do you feel yourself integrated?
I have integrated with life here. I don't freak out on small things. I don't have a cappuccino after 11am anymore 😉 I dress not to stand out and put my flip flops in the trash. I sit in the post office for hours and don't complain about it.
Could you tell us a few words about your group Rome expats?
I moved here in 2000 and in 2001 I started on a forum Expats living in Italy and there weren't many English Speaking Expats that had access to internet so it was harder than to connect, but it was a small forum and we helped one another with information. In 2007 I started using other social media and suddenly I had a website and over 2 thousand members waiting for a meetup. We used to meet up 2 times a week for years but now it's just once a week. With the emails coming in and managing such a large group, we have less meetups and more online help. 16 years later we have over 9 thousand members! Have a look at our video here. 
Have you ever experienced any cases of discrimination/racism in  Italy?  
Yes… a few times in public with unpleasant remarks. I just ignore it.
Advice to a new expat in Rome? 😉
I don't think I would have made here without a good network. I have a big network of Italian and Expat friends. It's a referral system here in Italy. I see lots of Expats that will come to meet up and make friends with others that are living here a short time. I'd say try to make connections with those that have lived here about a year or even more.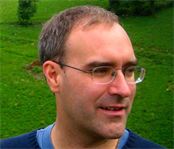 Anthony Majanlahti shares his story
My experience of getting my residency is not the most difficult one I've heard of. Refugees have it worse, in fact just about everyone who isn't an EU citizen has it harder. I can only tell my own story.
I was born and raised in Canada, of an English mother and a Finnish father. I'm a historian and writer about Rome, and obviously there's no better place for me to live and do my research than here. However, for many years I lived here very hazardously, never sure if, once having left the country, the authorities would let me back in. I will draw a polite curtain over the stress of my life here as an extracomunitario. Temporary permessi di soggiorno for the purposes of study would expire, and have to be renewed, always from the Italian Consulate in Toronto, because they wouldn't do it from Italy. So back I would go. And that kind of permesso didn't give the right to work.
A few years ago, my father let me know that Finland had changed its laws to permit the children of people born in Finland to claim Finnish citizenship, probably because Finland's population growth is negative at the moment. I didn't have any EU citizenship rights through my mother, because the British changed their citizenship law: since I hadn't been put on some embassy list before I was 18 years old, I had no right to British citizenship. However, now I suddenly had the right to Finnish and therefore EU citizenship. I jumped at the chance. After a surprisingly friendly and easy series of steps, I found myself clutching my prize, an EU passport. Now finally I couldn't get sent back to Toronto.
At this point I wanted to go all the way and get my residenza in Rome. But I was perplexed. The information available online seemed contradictory and incomplete, and who knew whether or not the sites had been updated. Yet at the same time I didn't want to go and ask anyone official – years of living dangerously had taught me an innate resistance to coming to the attention of the Italian authorities. I lived in a sort of semi-legal limbo for a long time.
My first piece of concrete advice is: if you have an EU passport, but no job, don't be scared. There are a bunch of helpful organs ready to give you various pieces of information. I went to discuss the matter with the CGIL immigration assistance office on via Buonarroti 51, and they were very nice and gave me a lot of advice. It was also free. There was another agency of another big union, the UIL, whose offices are at via Cavour 108, near Santa Maria Maggiore, and they were even more friendly and less crowded. They too offer help and advice for free.
If you're an EU citizen you don't need to mess around with permessi di soggiorno or carte di soggiorno, no matter what the Ministry website says. What you want to establish is your residenza. With that, you can get your identity card and your health card, and with those pieces of identification you have official existence in Italy. You can even get a job.
Second, and this is a bit strange, but every different municipality of Rome has different requirements. As I live in Municipio I, Centro Storico, I am describing what my experience is with them. If you live in the historic centre, you are in Municipio I and you have to go down to the huge drab Fascist-era Anagrafe or Public Record Office on via Petroselli, down past the Theatre of Marcellus toward piazza Bocca della Verità. If you live in a different Municipio, check their website to see how their requirements differ: they won't be significantly different, in any case.
Here is what you need, as an EU citizen without a contract or a job, to get your residenza:
You need a codice fiscale, officially issued by the Agenzia delle Entrate or Tax Agency. The main Rome office is in Trastevere, on via Ippolito Nievo, 36. Getting this is easy, just turn up with your passport and fill in a bunch of forms.
A bank statement from your Italian bank account. You have to have one of these – some banks offer accounts for foreigners. In any case, open a bank account and make sure you have the "minimo sociale" in there, which is some sort of minimal cash level to show that you won't immediately need to sleep on the street. The amount in 2011 was €5,424.90. You don't have to show tax documents from your home country, just a simple bank statement, as long as it's from an Italian account and is recent.
Your EU passport, obviously. Plus about three photocopies of it. Actually, photocopy everything, because you don't want to find out something's missing once you've been waiting for hours at the Public Record Office.
Health insurance. I had private health insurance from Canada but you can also buy a private health plan here. You need a copy of your plan, preferably in Italian but I got away with mine in English, and several photocopies of it.
A copy of your rental contract, or a letter from the person you are subletting from, stating that you are living there as a guest (the state doesn't need to know you're renting a room and won't check if money is changing hands), along with that person's rental contract and photocopies of that person's identity card. Several copies of this, too.
The Public Record Office wants to know if you're married or single. This can be a bother to prove. For instance, I have never set foot in Finland so I was worried that the Finnish authorities couldn't help, because as far as they know, I have seven wives and twenty-six kids. I emailed them, got a helpful email from them in English and another email address in Helsinki to write to. I wrote there and they wrote back that not only could they provide me with a "documento di stato civile", a document proving my civil status (single), but they could send it to me IN ITALIAN. The helpfulness of the Finnish authorities almost made me cry. When I asked about how much it cost, they said they would send an invoice and I could pay upon receipt. It felt so un-Italian to be trusted like that by the state. I felt a surge of Finnish nationalism. As it turned out, though, the nice lady at the Rome Public Record Office just left all that stuff out because the document hadn't arrived yet, and so it didn't end up mattering. But that seemed like a matter of personal discretion on the part of the public official, so better be safe than sorry. Get some sort of document attesting to your single or married status.
The Italians also want to know where you used to live, with some sort of official document from your home country stating your old address. But again, I didn't have anything of the sort so I gave my mother's address in Toronto and the nice lady at the Public Record Office just entered it in without complaint. It would be better to have something, like a letter from your home government with your name and address on it.
Now, at this point you need either your job contract, with your last paycheck, or the dreaded partita IVA, the service tax code for independent taxable entities. The IVA is rather like the VAT in Britain or the goods and services tax in Canada, and having the partita IVA means the government expects you to pay it yourself out of your earnings. It has been raised to 21%, which is on top of your income tax of course. Since I have no contract, I had to get the partita IVA. Getting the partita IVA is super easy, rather like getting the codice fiscale which is another tax code. You just have to go to a commercialista or business manager (there are tons all over Rome and they can all do it for you), or ask the CGIL's commercialista to do it for you, for a fee of €50. You present your passport, ask for a partita IVA, and the commercialista will ask in what sector you work. I said I worked as a translator and in cultural events, and the relevant code was soon found and entered. After about a week, the commercialista will email you your partita IVA. Everyone complains about the partita IVA. It has been described as "like having a child, but without the joy". Apparently you have to pay an estimate on the tax that you expect to make in the next quarter, but you have to pay it this quarter. I haven't quite figured it out. The system that was in place until January 1 of this year was called, somewhat slightingly, "per contribuenti minimi", for minimal contributors, and it meant that if you made less than €30,000 a year (ha! I dream of €30,000 a year!) you didn't have to go through all that rigmarole, and in fact you didn't pay the IVA on your services at all, but the body paying you just made a "ritenuta d'acconto" or kept back 20% of what they were paying you, so they were paying the IVA and all you had to do was pay your income tax without worrying about it. Anyway it would seem that Monti's new tax scheme has eliminated that tax program for "contribuenti minimi", so I am in breathless anticipation to find out what is to become of me, taxwise. But. For our purposes, all you need is the partita IVA, and you can get it without much trouble.
You also need two "marche da bollo" or government stamps, €14.62 each, which you can buy from any tabacconist's, and two other government stamps, €0.52 each, which you can buy only from the "Cassa comunale" or City Government Cash Desk, on the first floor of the Anagrafe on via Petroselli. While you're up there, buy the form ("modulo per la carta d'identità") from the same desk, for €5.42. It saves you another trip up there later.
Get some passport-sized or specifically carta d'identità-sized photos of yourself from a photo booth or photographer. Again, you won't need them right away, but you may as well take care of it beforehand.
Make sure you have copies of everything! The Anagrafe will want the copies to keep, and will want to look at the originals, so bring it all with you. 
The adventure really begins once you get to the at. It is said to open at 8.30, but by 8.30 the entrance is already crammed with a mass of people blocking your way. Sometimes someone has already made a makeshift numbering system and giving out little scraps of paper saying you're number 16 or whatever. That makes the entrance into the Anagrafe at 8.30 slower. In any case,  Bring a good book and your iPod, because chances are . Since the Anagrafe is only open in the morning, arriving after 8.30 is pointless. The bureaucracy is not fast.
Once you're inside the Anagrafe, you will want to make your way to your , up some steps, into a large gloomy hall where you will have to decide what kind of service you want, like at the post office, and press a button to get a waiting number. You will want whatever the button is that says "". There will probably be a helpful staff member to press the button for you if you are perplexed. However, at that point you are on your own. If your number isn't immediately going to be called, you can exit the hall, go get a coffee and croissant at the bar inside the Anagrafe on the other side of the main entrance, and go upstairs to the Cassa comunale and buy your "" and the form ("") for the identity card. Having done that, you will feel a pleasant sense of being armed and ready to do battle with the bureaucracy.
When your number is finally called (pay attention to the screen!), you will be brought into an office with a hopefully kindly functionary behind a desk who will ask to see your documents, may ask you questions, and will fill in a bunch of information on the computer. This functionary will tell you if there are pieces missing from your documentation – if there are, you will have to go through all of this again twice, so try to avoid missing out anything. At the end, having taken your photocopies of everything, the functionary will issue you with a wide computer-printed strip of paper, the "fascia", which serves as a sort of interim identity document, saying in effect that your application for residenza is being processed. (You can already go to your local health authority with this "fascia" and sign up, but I waited til I had everything sorted out.) You need to bring this "fascia" back with you to get your identity card.
At this point the nice lady functionary told me, "Now all you have to do is wait for the police to come and check that you live where you say you live."
"What?"
"Yes, you have no idea the kind of scams that people try to pull. Make sure you have your rental contract on hand and be at home when the policeman calls."
"When will he come?"
"Oh, not within the next three weeks, I'd say," said the functionary cheerfully. It was August. "You can certainly go on holiday without worrying." This was all starting to look a bit haphazard and I got worried.
"What if I'm not there when he arrives?"
"Don't worry, you'll just have to take your rental contract and go to his office and show it to him."
"But how is that different from showing it to you here, as I am doing now?"
"Because I am not the police," she replied gently.
"And then what happens? Does the policeman give me a document that I bring back to you?"
"Oh, no!" she said. "The policeman sends a communication to us here, and we process it, and you come back and line up and get your identity card."
"But how will I know when you get the policeman's communication?"
"It usually takes about ten working days from when you see the policeman. Come back then."
Well, I took her at her word, only to find that the police had passed by to see me when I was gone. I went to the police station on viale Trastevere, just past piazza Sonnino and before the start of via di San Gallicano, taking the piece of paper left with my concierge that gave the date and time that I should present myself at the policeman's office. I noted that there were only two days a week when he could be found at his office, for precisely one hour, around lunchtime. I went with my rental contract, was ushered in immediately (there was no one else waiting), and a weary police officer filled in a form and glanced at my contract, and said "Congratulations. As far as the police are concerned, you are now a resident of Rome."
"How long do I have to wait before I go back to the Anagrafe and apply for my identity card?" He laughed cynically. "All I can say is, this form will leave my office tomorrow. After that –" he spread his hands — "maybe you should wait a month or two."
"But they told me ten days!"
"OK, OK. I can only tell you that my job ends when the paper leaves my office."
"Well, thank you very much."
"Welcome to Rome," he said, already looking at another piece of paper on his desk.
I decided to wait two weeks, then risk it. This time I was smarter and got to the Anagrafe before 8 AM, and there were only about 20 or so people in front of me. I waited about 45 minutes, in high anxiety, before my number came up. I had brought my envelope with all my documents, originals and photocopies, including the "fascia" they'd given me last time. I went back into the office behind the counter, and a different functionary, but still very nice, confirmed that they had, indeed, received confirmation from the police that I was resident where I said I was, and that they could issue the identity card right away, especially since I already had the "modulo" (the form) and the photos. I handed my "fascia" over to her. After so much time and anxiety and effort, I could almost not believe it. But she put the blank identity card paper into the special printer and printed it out, then affixed one of my photos and stamped it with an official imprint. She then printed out a page entitled "ATTESTAZIONE DI REGOLARITA' DEL SOGGIORNO PER I CITTADINI DELL'UNIONE EUROPEA" which stated that I, Anthony Majanlahti, born in.., resident in via…, of Finnish citizenship, "E' REGOLARMENTE SOGGIORNANTE IN ITALIA", "is staying in Italy according to the rules". She affixed two of the "marche da bollo", one of each kind, to one copy, and did the same to an office copy.
I left the Anagrafe with my carta d'identità, one of the old-style paper ones ("Some of the other Municipi give you the plastic card with the smart chip in it," the functionary told me, "but it's not free. It costs the earth!"), and couldn't stop looking at it as I staggered up the via del Teatro di Marcello. I soon found myself in largo Argentina, and I went into a tobacconist's to ask if I could buy a plastic cover for the identity card. "It's my first identity card! I'm a legal resident of Rome at last!" I told the tobacconist, rather deliriously. To celebrate, he gave me the plastic cover for free.
From that point on, it was easy to get signed onto the medical system. I was in the Primo Distretto Sanitario of the ASL Roma A (which coincides with the Municipio I – check which yours is at their website, www.aslromaa.it), at via Luzzatti, 8, near piazza di Porta Maggiore. I went there with my documents, including my carta d'identità, and they filled out a quick form, took some photocopies of my passport and carta d'identità that I had already made just in case, and printed out a dummy version of my health card which would have to serve until the real one arrived by mail, a month or so later. I chose a doctor from a list of doctors near my apartment, and that was that. The real card arrived a month later and I cancelled my private health insurance. I was in the system.
Have a story to share that will help others living and working in Rome to become legal? Get the proper documents needed to make life easier? Please email us at [email protected]