Ciampino: New Bus 720 line is now up and running at the airport!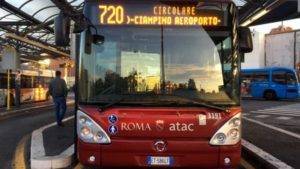 Today, Monday, September 18, first run for Atac's bus line 720. Ciampino Airport with a direct connection to metro B Laurentina to termini. Buses will run every 20 minutes.
A whole new service (and already subject to some controversy) in collaboration with Atac, Roma and the airport. Line 720 will stop at station 4 at the airport exit, where an Atac stopper will be installed. The trade agreements with Zètema and co-marketing with Chef Express will also enable the promotion and sale of Atac travel tickets and tickets intended for tourists (24, 48 and 72 hours), in the Tourist Information Point (PIT ) and in the dining area at the airport.
Advantages of line 720
The bus will connect Piazzale Leonardo da Vinci, at Ciampino airport with the Metro station B Laurentina  via Vigna Murata, via Ardeatina and via Fioranello, with 22 stops on the way. With a simple BIT (Ticket Integrated at Time) of € 1.50, then you will be able to take advantage of transportation from the airport to the metro and possibly use the remaining minutes in the ticket (100 minutes in total) for a subway ride to the center city. This bus + metro combination is a simple and economical option to reach central Rome from Ciampino Airport.
Atac tourist directly at the airport
At the airport you will also be able to purchase Atac tourist travel tickets, ie 24, 48 and 72 hours tickets at 7, 12,50 and 18 euros, allowing you to use all Atac, Cotral and regional railways in the territory of Rome. Airport passengers will be able to purchase the securities using the automatic dispenser in the airport's outdoor courtyard or, within the arrival area, at the Zètema Tourist Information Point or at the Chef Express Point of Sale.
Thanks to the agreement with Zètema and the Tourism Department of Rome, the Tourist Information Point at the airport will host the Atac campaign "Have a good time in Rome – Choose your public transport ticket".
Ciampino's PIT, as well as all PITs in Rome Capital, is the authorized retailer of Atac's travel titles and RomePass's official retailer, the integrated Mobility Mobility Card and Museums of Rome Capital. Thanks to line 720, tourists can use the Roma Pass 48 or 72 hours from their arrival to reach the city from the airport and begin their visit. The Atac and Chef Express partnership will enable ticket sales and the promotion of the Atac campaign even at the refreshment point in the arriving area.
Free custom line maps 720
For the launch of the new 720 Atac line will produce a personalized public transport map that will be distributed free of charge at the PIT of Ciampino and all PITs in Rome Capital, as well as at the Atac reception desk at Termini metro station and at all metro stations From Rome.
Original article here in  Italian