Visas are issued by the Italian Embassy or Consular Sections of a foreign national's country of residence. Permits to stay are issued in Italy by the Questura (Police Headquarters) having jurisdiction in the province where a foreign national is staying. Foreign nationals are required to apply for residence permits within 8 working days (i.e. excluding Sundays and holidays) of arrival.
Citizens of some foreign countries can visit Italy and stay for 3 months without a VISA. In some cases, citizens can stay for a longer period under a permit of stay or "permesso di soggiorno". In most cases, foreign citizens must return to their country of origin and request a specific VISA at the corresponding Consulate. Therefore, we recommend to ask for a VISA at the Italian Consulate or Embassy of your country of origin in case you want to stay in Italy for a period longer than 3 months.
The most common types of VISA and Permit to stay are the following:
• VISA/Permit for family reunification: valid for a year from the date of issue; it is issued to the sponsoring migrant's family members following approval of a reunification application.
• VISA/Permit for employment purposes (indefinite, fixed-time or seasonal contracts): this can only be issued after obtaining work authorization from the Sportello Unico per l'Immigrazione – SUI (Immigration Desk) at the Prefettura (central government's territorial office). In order to enter into an employment relationship with a non-EU national residing abroad, employers, whether Italians or foreigners legally residing in Italy, are required to apply for permission to hire an individual migrant worker at the Immigration Desk in the province where the job will be carried out.
• VISA/Permit for self-employment purposes: may be applied for to conduct a non-occasional, self-employed work activity in the industrial, professional, handicraft or commercial sectors; to set up a company or partnership; to access corporate managerial positions. In order to obtain such a visa, foreign nationals must fulfil the same professional and moral requirements demanded for Italian citizens by the law with regard to the same type of activity.
• VISA/Permit for highly qualified workers: such is the case of journalists, highly specialized staff who work for a corporation domiciled in Italy, artists, dancers and musicians, etc (art. 27  Decreto Legislativo 25 luglio 1998, n. 286).
• Elective Residency Permit: the Elective Residence Visa/Permit is for those who have chosen Italy as the country of permanent residence and who are able to support themselves autonomously, without having to rely on employment while in Italy, whether as dependent employees, as self-employed employees or employees working remotely online. You cannot finance your residence in Italy through any type of work and to obtain the VISA/permit you must demonstrate that you own a property or that you have signed a lease.
---
If you're considering a move to Italy, you're not alone. The country's beautiful landscapes, rich culture, and delicious cuisine are just a few of the reasons why expats are drawn to Italy. However, moving to a new country can be a daunting process, and Italy is no exception. In this article, we'll take a look at the pros and cons of moving to Italy, provide legal advice for expats, and discuss what you can expect from the Italian bureaucracy and processes.
Pros of Moving to Italy
Beautiful Scenery
From the rolling hills of Tuscany to the stunning coastlines of the Amalfi Coast, Italy's natural beauty is hard to beat.
Rich Culture
Italy is famous for its art, music, fashion, and cuisine. As an expat, you'll have the opportunity to immerse yourself in this rich culture and learn new skills and perspectives.
Food and Wine
Italy is a food lover's paradise, with delicious pasta, pizza, gelato, and wine. As an expat, you'll have access to some of the best food and wine in the world.
Quality of Life
Italy is known for its relaxed lifestyle, with plenty of opportunities for leisurely strolls, coffee breaks, and long dinners with friends.
Cons of Moving to Italy
Bureaucracy
The Italian bureaucracy can be slow and frustrating, and navigating the complex systems and processes can be challenging for expats – But the good thing is that you know us and we could help you get through the worst part of this with our Legal team!
Language Barrier
Although many Italians speak English, the language barrier can still be a hurdle for expats, particularly in more rural areas.
Cost of Living
Italy can be an expensive country to live in compared to others, particularly in major touristic cities like Rome and Milan. You can check online the cost of certain things in websites like Numbeo.
Unemployment
Italy has a relatively high unemployment rate, particularly among young people. Finding work as an expat can be difficult, particularly if you don't speak Italian. Good thing you can check on our Facebook Group or Newsletter for any open position!
Legal Advice for Expats Coming to Italy
If you're planning to move to Italy, it's important to be aware of the legal requirements and processes involved. Here are some tips to help you get started:
• Obtain a Visa: Depending on your nationality and the purpose of your stay, you may need to obtain a visa before you can enter Italy. The Italian embassy or consulate in your home country can provide more information.
• Register with the Local Authorities: Once you arrive in Italy, you'll need to register with the local authorities within eight days. This process is called the "residenza" and involves obtaining a codice fiscale (tax code) and registering your address with the local police.
• Obtain a Permesso di Soggiorno: If you plan to stay in Italy for more than three months, you'll need to obtain a permesso di soggiorno (residence permit). This process can be complex and time-consuming, so it's a good idea to seek legal advice.
• Understand Your Tax Obligations: If you're working in Italy or earning income from Italian sources, you'll need to pay taxes in Italy. It's important to understand your tax obligations and seek advice from a professional if necessary.
Italian Bureaucracy and Processes
As mentioned earlier, the Italian bureaucracy can be slow and frustrating. Here are some tips to help you navigate the process:
•  Be Patient: The Italian bureaucracy is known for its slow pace, so it's important to be patient and persistent.
•  Seek Help: If you're struggling with the bureaucracy, don't be afraid to seek help from a professional or a local Italian friend. Or you can also contact us and our legal team can give you a free call to discuss your situation! Email us at [email protected] 
If you want to receive more information about this topic, make sure you subscribe to our Newsletter and don't miss out on anything! We are here to help you feel at home.
---
Rome is a city with countless things to see and do, but sometimes the best experiences are the ones that are a little off the beaten path. Here are five lesser-known things to do in Rome that are perfect for a group of friends that you will meet on your way! Visit the Catacombs […]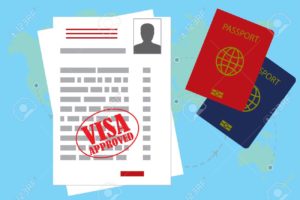 The 2003 European Directive on the status of non EU nationals states that a long-term residence permit should be awarded after a person has lived legally in an EU State for an uninterrupted period of five years. 
This however depends upon the applicant having a stable and regular source of income, health insurance and (when required by the EU State), having complied with integration measures (he must also not constitute a threat to public security or public policy). If the applicant complies with these conditions, he can receive an EU long-term residence permit, renewable, without expiration and the status of EU long-term resident. The owner of a long-term residence permit receives the same treatment and rights as nationals in many areas: for example, access to employment and self-employment activity; social protection and assistance, move to another State of the Schengen area, etc.