Learn Italian in a fun and easy way!
Learning another language can be difficult and also boring, so we have organized a fun way to learn or practice Italian. Living in Rome or any other country and not knowing the language can make things frustrating. Communication is important and we can help you with that. Our teachers are experienced, qualified and motivated. There is a real lesson with grammar explanations and conversation depending on the level you are at.
Teachers make learning fun and interesting so you enjoy each class. Lessons are held at the same location as HAPPY HOUR on Tuesday nights. We do change location and it's central. After class you can join us for language exchange, make new friends, socialize and network. How cool is that?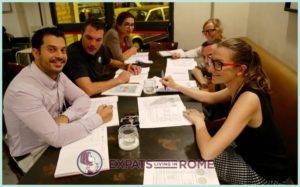 Want to learn Italian for daily living in Italy?
➡ Are you interested in how to communicate while shopping, booking a hotel room, or making reservations at a restaurant?
➡ Want to improve your skills you already have?
➡ Are you ready to take the challenge?
Tuesday night classes
➡ Package of 8 lessons cost €80.00
➡ Lessons are on every Tuesday night at 7:30 pm -9:00 pm (1.5 hours)
➡ You can cancel lesson same day up till 11:00 am
➡ You can pause the lessons so that you do not lose them
How to Enroll?
Sign up and become a member for free here and fill out the form. Once we have accepted you we will send you info for the class you can TRY IT FREE before you sign up without obligation. If you decide to sign up there is a ONE-TIME enrollment fee of €40.00. After you have filled out the form and become a member send us an email at info@expatslivinginrome.com and let us know which Tuesday you like to come in for your try lesson and what level you are.

How many students are in class?
There are from 2 to 8 students in each class. The average number is 4/6.
Where are the students from and their age?
Students are from all over the world. The average age is 18 to 45.