Join us for a special Expats Meetup courtesy of our sponsor, FirstMed Rome, an English-speaking clinic. We are inviting all expats to enjoy an exclusive FirstMed discount card for advantageous prices on their medical visits.
Greetings from the Eternal City! Are you eager to connect with new faces and uncover hidden gems in Rome? Look no further—join us for a captivating Expats Meetup, graciously sponsored by FirstMed Rome, an English-speaking clinic. As an added treat, FirstMed is extending an exclusive discount card for medical visits, ensuring you have access to affordable healthcare. And that's not all! We're hosting an exciting raffle where you could be one of the lucky winners to snag one of three fantastic prizes.
About FirstMed and Its Founder, Dennis A. Diokno: Our event is made possible by FirstMed, with Dennis A. Diokno at its helm. Dennis successfully launched the FirstMed Centers in Budapest, Hungary back in February 1999. Initially established as The American Clinic, it evolved to encompass a broad spectrum of specialties and diagnostics, with a renewed focus on elevating patient care.
In recent years, FirstMed has been on a mission to enhance the expatriate care model, recognizing the distinctive healthcare needs of expats. Their commitment lies in delivering comprehensive and compassionate healthcare services tailored to the international community. FirstMed aims to provide timely care in a friendly and inviting atmosphere.
Meet Dr. Walsh: We are thrilled to introduce you to Dr. Walsh, our distinguished medical expert for the evening. Dr. Walsh comes from the Republic of Ireland and boasts an impressive background, having served in the UK National Health Service, including esteemed institutions like St George's University Hospital and St. Thomas' NHS Foundation Trusts. Dr. Walsh will be on hand to offer valuable insights into Firstmed's services, how they differ from Italian public healthcare, and the possibility of using both.

What to Expect:
▪ Networking: Forge connections with fellow expats from various corners of the globe in a warm and inclusive setting. Don't fret if you're arriving solo; we'll gladly introduce you to fellow attendees.
▪ Diverse Attendees: Our event attracts a diverse crowd, spanning ages from 18 to retired expats. Typically, we welcome between 60 to 100 participants, so securing your spot in advance is advisable. If you haven't already, consider signing up for our newsletter to stay in the loop.
▪ FirstMed Team: The FirstMed team, led by Founder Dennis and Dr. Walsh, will be on-site to welcome you and address any queries you may have regarding their services.
Raffle Gifts for All Attendees:
▪ FirstMed Discount Card: A year-long loyalty card offering advantageous discounts on various medical services.
For 3 Lucky Winners:
▪ FirstMed Goody Bags:
  ◦ Intro Card: Complimentary general medicine consultation valued at €120.
  ◦ Baseball cap.
  ◦ T-shirt.
  ◦ Fountain pen.
  ◦ Notepad.
  ◦ Hand sanitizer.
  ◦ Fold-up fan.
Event Details: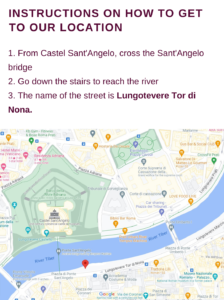 Date:  Tuesday, September 19th @ 19:30
Entrance fee: €15 including 1 Drink + Appetizers
Location: Terrazza Tevere, Lungotevere Tor di Nona, 00186 Roma RM
Complimentary Welcome Drink: Whether you're a newcomer or a familiar face at our meetups, enjoy a complimentary welcome drink as our way of saying "Benvenuti a Roma!"
How to RSVP?  To reserve your spot at this exciting event, please RSVP by completing this form. Priority will be granted to expats on our attendee list, and email confirmations will be sent after the RSVP period ends.
Spaces tend to fill up rapidly, and you wouldn't want to miss the opportunity to connect with fellow expats and relish the FirstMed discounts.
Newsletter Signup: If you haven't already subscribed to our newsletter, you can do so here to stay informed about upcoming events and updates.
Let's make Tuesday, September 19th, an unforgettable evening at Terrazza Tevere, Castel Sant'Angelo! 
We eagerly anticipate welcoming you to Rome and crafting memorable experiences together.
---
Other services and resources through our network:
• All relocation services: Immigration, Citizenship & Visas
• Startup programs and free resources
• Free consultancy for startup
• Italian language lessons
• Assistance to buying property in Italy
• Commercialisti ( USA/ITALY)
• Authentication & Legalization
• Certified translations
• Apostille
• Notary USA & ITALY
• USA money order service
• Obtaining documents in the USA and Italy
• Apply for bank loans
• Dichiarazione di Valore
• U.S immigration Assistance Provider
• USA FBI fingerprinting