Top 3 exhibitions in Rome in December 2021
Posted on December 6th, 2021
---
It has been raining a lot these last few weeks in Rome and is there anything better than seeking shelter from the rain in one of the many exhibitions currently on in Rome. Expats living in Rome has curated a top three exhibitions list in Rome for December 2021 for you. 
3. CARAVAGGIO AND ARTEMISIA: THE CHALLENGE OF JUDITH. VIOLENCE AND SEDUCTION IN 16TH AND 17TH CENTURY PAINTING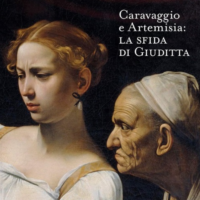 A small but fine exhibition, which celebrates the fifty years since the acquisition of Caravaggio's Giuditta beheading Holofernes by the Italian state. 
This exhibition explores the influence Caravaggio's work had on other contemporary painters, such as Artemisia Gentileschi and her painting called Judith and Holofernes. 
The exhibition opened on the 26th of November and will run until the 27th of March 2022. 
Tickets: 8€ for adults, 3€ for EU citizens age 18-25, free for under 18 year old.
Where is the exhibition: Palazzo Barberini 
Further information: Barberini Corsini
---
2. ALL ABOUT BANKSY: EXHIBITION 2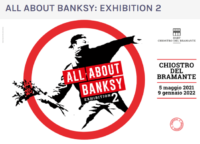 This second exhibition on Banksy features around 250 works from private collections and is described as a new exhibition "to discover everything you can know about the world's best-known unknown artist".
Different sections of the exhibition explore the artist's iconic themes, such as surveillance society, the environment, ecology, politics immigration, children's rights and many more. 
Some of the works included in this exhibition have never before been exhibited, such as Dismaland and the online store Gross Domestic Product. 
Furthermore, the exhibition includes three videos on the most significant moments of Banksy's career, including an exclusive and unpublished documentary on the artist's career. 
Tickets: 15€ (Monday to Friday), 18€ (Saturday to Sunday), 13€ (Special ticket, Monday to Friday from 13.15 to 15.00), 10€ for children from 5 to 10 years old, free admission for children younger than 4 years.
Where is the exhibition: Chiostro del Bramante
Further information:  www.chiostrodelbramante.it 
---
1. Inferno

On the occasion of the seven hundredth anniversary of the death of Dante Alighieri, this exhibition explores the concept of hell and damnation through over two hundred works by different  artists, borrowed from more than eighty major museums and private collections, through the middle ages to the present day. 
The paintings by renowned artists such as Botticelli, Manet and many others are accompanied by the words of Dante's Divina Commedia and explore terrifying places and visions of hell through medieval scenes to 20th century interpretations. 
The first section explores the origins of Hell in different religions. Other sections explore how Hell can experienced on our planet, such as wars, tragedies and madness. Finally, at the end the exhibition explores the idea of Salvation. 
A fantastic exhibition to learn more about the concept and origins of Hell and its different interpretations over the century not to be missed before the 9th of January 2022. 
Tickets: 13 – 15€
Where is the exhibition: Via XXIV Maggio, 16 (Monti)
Further information: http://scuderiequirinale.it/
By Sarah Grunenberg 
---