Mondassur is an international health insurance broker. We offer different types of international insurance plans for expatriates, travel and repatriation insurance, international student insurance and Working Holiday Visa insurance since 2002.
Are you interested in expatriation and thinking about it? Gold Expat Insurance is what you need!
Our GoldExpat insurance plans can be purchased by anyone living outside their country of nationality, abroad and outside their country of origin, regardless of the duration. Whether you are self-employed, an artist, a company executive, a craftsman… you can benefit from GoldExpat insurance.
GoldExpat expat insurance offers different plans to meet all budgets. You will be covered at 100% in outpatient costs and 80% to 90% of the actual outpatient costs depending on the chosen insurance plan.
The advantages of buying expatriate health insurance with Mondassur 
• With private health insurance, you can be treated in a public or private hospital;
• You will benefit from better reimbursements for your care in the private sector;
• You will be covered worldwide. Whether you return to your home country or go on holiday
• International Health Insurance is the best insurance plan for expatriates who wish to benefit from a wider range of health insurance and who tend to travel a lot. If you decide to move to another country, obviously you will not keep the local health insurance. The expatriate health insurance, on the other hand, follows you everywhere.
• You can choose from a wide range of benefits: dental, optical, wellness being, preventive care and maternity (optional).
• Medical assistance platform available 24/7 worldwide.
• Fast enrolment procedures with email confirmation
• Multilingual advisors to help you manage your insurance.
• International network of hospitals and medical practitioners
---
How does expat insurance work?
An expatriate or international health insurance called "first euro" is an insurance that pays all your health costs. Refunds are made without deductible, from the 1st euro paid. This type of health insurance is therefore different from a complementary health insurance that reimburses in addition to another insurance: public or private. They are called expat insurance because they are for anyone living outside their country of origin. Whether you work abroad on a local contract, whether you are retired, globetrotting or sent as an "expatriate" by your company, expat insurance is health coverage for abroad. These insurances offer:
• a single intermediary for your claims: simplicity and speed of your process
• a quick and simple subscription
• a formula that is perfectly suited for countries where the public health system is very expensive or underperforming
Namely: the rate of expat insurance depends on the profile of the insured: his age, his medical history, the country of residence etc.
How do you choose your expat insurance?
Here are the main criteria for choosing your expat insurance.
1. Choose expat insurance without a deductible. You will be reimbursed as soon as you 1st spend even if you only need a few routine visits to the doctor who does not charge a lot of expenses.
2. Pay attention to any waiting times that may apply (often for optical dental care or maternity)
3. Check ceilings, and interdependencies (some contracts link dental/optical motherhood, for example).
4. Beware of possible exclusions from the contract
5. The reimbursement service for your care must be efficient so simple and fast
6. The advice you can take in choosing your contract but also throughout the life of your contract
Mondassur advises you to find the best international health insurance
We invite you to contact us or ask for a free quote for international health insurance to be advised to the best of our international insurance experts. Depending on your situation, your country of residence and your needs, we will offer you the health coverage abroad that is best suited for you.
Contact 
Email: [email protected]
Phone number: +33 (0)1 80 87 57 80
WhatsApp: +33 7 66 54 12 12
---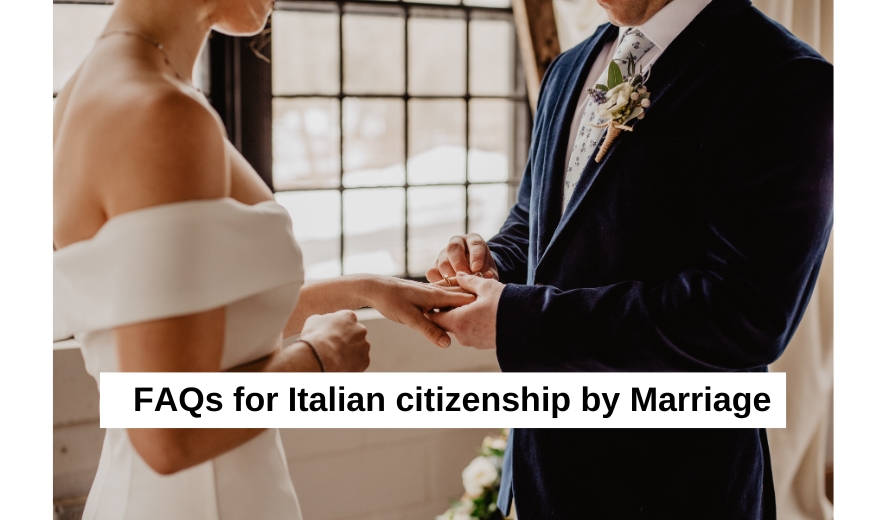 Posted: August 14, 2023
In this article, we are going to provide you with FAQs about obtaining Italian citizenship through marriage and how to apply both in Italy and abroad. Can a spouse of an Italian citizen get Italian citizenship? Yes, a spouse by marriage can obtain Italian citizenship, even if they have not lived in Italy. It is […]