All the Exciting Things to Do in Rome and Italy this May
Posted on April 29th, 2023
---
Explore All the Exciting Things to Do in Rome and Italy this May, from the well-known attractions to hidden gems!
Welcome, expats living in Rome and Italy! You've made a fantastic decision to call this beautiful country home. We've compiled a list of the best things to do and the events happening in May to help you immerse yourself in the local culture. And, for those who are new to public transport in Italy, we've got you covered with some handy tips to make your travels stress-free.
May 1st: May Day Celebrations in Rome
May 1st is a national holiday known as International Workers' Day, or May Day, which is widely celebrated across most European countries, similar to Labor Day.
Romans particularly enjoy this day as an opportunity to spend time outdoors, indulging in picnics or leisurely lunches with friends and family.
Here's a list of what's closed and open on May 1, 2023, in Rome:
Closed on May 1, 2023:
– Vatican Museums and Sistine Chapel
– Capitoline Museums
– Castel Sant'Angelo
– Ostia Antica
Open on May 1, 2023:
– Colosseum, Roman Forum, and Palatine Hill
– Galleria Borghese
– Saint Peter's Basilica (as well as other churches)
– Galleria Doria Pamphilj
– The Pantheon
Tip: Take advantage of the holiday to explore Rome's iconic sites and immerse yourself in the city's vibrant atmosphere. 
Primo Maggio Concert: A Celebration of Music in Rome
Start your May adventure with the annual Primo Maggio Concert held in Piazza San Giovanni. This free, open-air event features a diverse lineup of Italian and international artists. It's an ideal opportunity to socialize with locals, dance the night away, and immerse yourself in Rome's vibrant music scene.
Rome's Secret Gardens: The Perfect Escape
Tired of the tourist crowds? Venture off the beaten path and discover Rome's hidden parks. Villa Doria Pamphili, Villa Ada, and Parco degli Acquedotti offer serene settings for a relaxing picnic or leisurely stroll, allowing you to recharge amidst lush greenery.
Rome's Blooming Roseto Rose Garden on Aventine Hill
The picturesque Roseto Rose Garden, nestled on the Aventine Hill in Rome, opens its gates to the public from April 21st through early June. In recent years, the garden has also been reopening for a couple of weeks in mid-October.
However, May is the ideal time to visit, as the roses reach their peak beauty, showcasing their magnificent full blooms. Not only is entry to the Roseto Rose Garden free of charge, but it also tends to be relatively uncrowded, making it the perfect serene escape amidst the bustling city.
Open House Roma
Hundreds of palaces, palazzos, ruins, and monuments in and around Rome are free to explore in May. 
The dates for Open House Roma in 2023 are May 20-28.
Visit a variety of homes ranging from modern to old. The site is only in Italian, but you can view photographs of the numerous spots you may visit, and if you click on any of them, a map of their location will appear.
The Street Art Scene in Rome: A Visual Feast
Rome's thriving street art scene adds a modern touch to the ancient city. Explore neighborhoods like Ostiense, Pigneto, and Tor Marancia to uncover striking murals, thought-provoking installations, and captivating graffiti. It's a unique way to experience Rome's contemporary culture.
Food Festivals: A Culinary Adventure
Food lovers, this one's for you! May is the perfect time to indulge in Rome's food festivals. Sample traditional Roman dishes at the Cacio e Pepe Festival or treat your taste buds to artisanal gelato at the Gelato Festival. These events provide a wonderful opportunity to savor Italy's culinary delights and mingle with locals.
Night of the Museums: History Comes Alive
Witness Rome's rich history in a new light during the Night of the Museums. This exclusive event allows you to explore Rome's museums and cultural sites after dark, with many locations hosting special activities and performances. It's a magical experience that shouldn't be missed.
Check this list of participating museums: Capitoline Museums, Centrale Montemartini, Mercati di Traiano – Museo dei Fori Imperiali, Museo dell'Ara Pacis, Museo di Roma, Museo Napoleonico, Museo di Roma in Trastevere, Museo Pietro Canonica a Villa Borghese, Musei di Villa Torlonia (Casina delle Civette, Casino Nobile, Serra Moresca), Museo delle Mura, Museo Carlo Bilotti – Aranciera di Villa Borghese, Museo di Scultura Antica Giovanni Barracco, Museo Civico di Zoologia, Museo della Repubblica Romana e della memoria garibaldina, Galleria d'Arte Moderna, Museo di Casal de' Pazzi and more.
There will be a lot of concerts and special performances and events happening in Rome too!
For the full list of the participating museums and sites, check out museiincomuneroma.it
Assisi's Calendimaggio Festival: A Medieval Journey
Just a couple of hours away from Rome, the enchanting town of Assisi hosts the Calendimaggio Festival. This lively event celebrates the town's medieval heritage with colorful parades, captivating theatrical performances, and traditional music. It's a unique opportunity to step back in time and experience Italy's rich history.
Giro d'Italia: A Thrilling Cycling Race
Witness one of the world's most famous cycling races, Giro d'Italia, as it winds its way through Italy's breathtaking countryside. Join locals in cheering on the cyclists and soak up the electric atmosphere. Check out the official website to get all the information and plan for your adventure! 
The International Kite Festival in Cervia: A Sky Full of Colors
For a family-friendly day trip, head to the coastal town of Cervia for the International Kite Festival. This vibrant event showcases stunning kites from around the world, alongside flying displays and kite-making workshops. It's a fun and unforgettable experience for all ages. Check the website for more information!
The Open Cellars Event: A Toast to Italy's Wine Culture
On the last weekend of May, wineries across Italy open their doors to the public for the Open Cellars event. Embark on a scenic road trip through the country's picturesque vineyards, sample exquisite wines, and learn about the winemaking process. This event is perfect for wine enthusiasts and those looking to explore Italy's countryside.
Tips for Expats and Tourists Visiting Italy in May
Dress for the Weather and Cultural Norms
May in Italy brings pleasant temperatures and the beginning of the summer season. Pack lightweight, breathable clothing and comfortable walking shoes for daytime explorations. However, it's essential to respect cultural norms, especially when visiting religious sites. Ensure you have a shawl, scarf, or a light jacket to cover your shoulders and wear modest clothing that covers your knees when entering churches or other sacred places. Don't forget to pack a light rain jacket or umbrella, as May can occasionally bring showers.
Familiarize yourself with the local and regional transport system
To understand the schedule and routes for buses, trams, and trains in Italy can be tricky at first. Check out every city public transport website beforehand! 
For example: Rome's ATAC website and app provide valuable information on routes, schedules, and ticketing. You can purchase a Roma Pass or Integrated Time Ticket (B.I.T.) for unlimited access to Rome's public transport network. These passes can save you money and make traveling more convenient.
When using trains to travel across Italy, consider purchasing a Trenitalia or Italo pass, depending on your route and travel frequency. Both companies offer a variety of ticket options to suit your needs.
Google Maps and Moovit are great apps to help you navigate public transport in Rome and other Italian cities. They provide real-time updates, route planning, and estimated travel times.
Keep in mind that some public transport services may have limited schedules during May holidays and local festivals. Always check timetables in advance to avoid delays.
Learn Basic Italian Phrases and Local Customs
While many Italians speak English, learning some basic Italian phrases will make your interactions with locals more enjoyable and help you navigate public transportation and restaurants more easily. Simple phrases like "Buongiorno" (good morning), "Grazie" (thank you), and "Dov'è il bagno?" (where is the bathroom?) can go a long way. Also, familiarize yourself with Italian customs, such as greetings, dining etiquette, and tipping practices, to ensure a smooth and culturally respectful experience.
We can help you with a free Italian lesson to get you ready for your next adventure in Italy!
In conclusion, Rome and Italy offer a wealth of exciting events, hidden gems, and unforgettable experiences for expats in May. With our comprehensive guide and public transport tips, you'll be well-equipped to make the most of your time in this captivating country. Embrace your new home, and happy exploring!
Don't miss out on our latest updates and legal advice for expats in Italy. Check out our Social Media accounts and Newsletter so you can join us in the next Social Meet-ups for Expats! 
---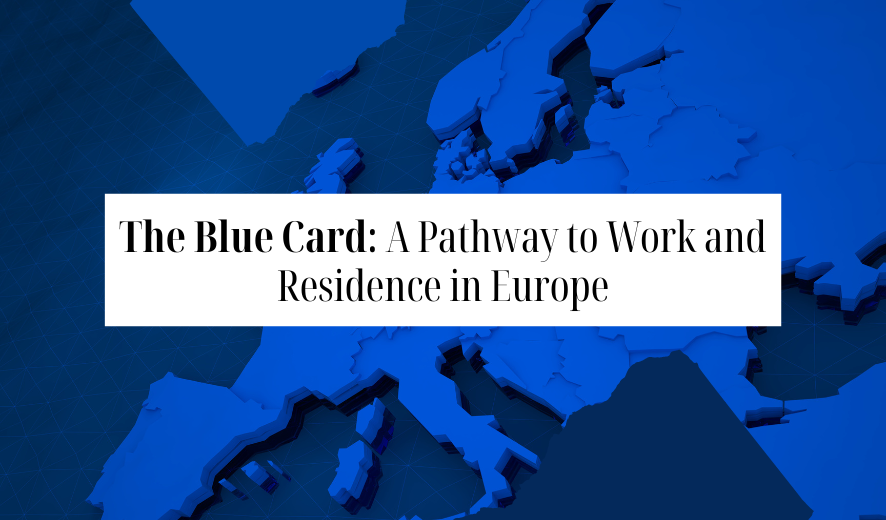 In an increasingly globalized world, individuals seeking new opportunities and experiences often find themselves exploring options for living and working abroad. For those who aspire to build their careers in Europe, the Blue Card offers an attractive pathway to work and residence. In this article, we will delve into the details of the Blue Card, […]
---